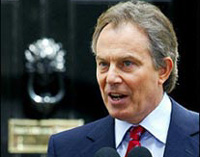 British Prime Minister Tony Blair reshuffled his cabinet, keeping his popular heir- after his Labor Party won a third term in power in a general election that slashed its parliamentary majority by more than half.
British Prime Minister Tony Blair had a cabinet reshuffle Friday evening shortly after Labor's unprecedented victory in the election.
While Chancellor of the Exchequer Gordon Brown, Foreign Secretary Jack Straw, Education Secretary Ruth Kelly and Home Secretary Charles Clarke will retain their posts, former Health Secretary John Reid has been appointed Defense Secretary, taking his place is Patricia Hewitt, who was Secretary of State for Trade and Industry and Minister for Women.
Former Defense Secretary Geoff Hoon becomes leader the House of Commons. Peter Hain who was leader of the House of Commons, Lord Privy Seal and Secretary of State for Wales, is appointed Northern Ireland Secretary.
Ex-home secretary David Blunkett is also offered a post as Work and Pensions Secretary, and Alan Johnson takes the new post of secretary for productivity, energy and industry.
David Miliband enters the Cabinet as community and local government secretary, whereas former Immigration Minister Des Browne becomes Chief Secretary to the Treasury.
John Hutton has been appointed Chancellor of the Duchy of Lancaster (Minister for the Cabinet Office) and Douglas Alexander will attend Cabinet as Europe Minister.
(Xinhua News Agency May 7, 2005)