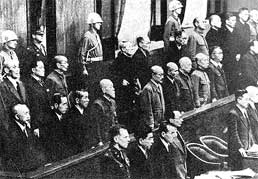 A senior Japanese official has recently claimed that convicted Class-A war criminals are no longer regarded as criminals in Japan. This is intolerable for those whose countries were victims of Japanese aggression and atrocities during and before World War II.
In a parliament meeting of Japan's ruling Liberal Democratic Party last Thursday, Masahiro Morioka, the parliamentary secretary for health, labor and welfare, claimed Class-A war criminals convicted for crimes against peace and humanity by the International Military Tribunal for the Far East after World War II are not criminals, because the tribunal was "one-sided."
Morioka has been strongly criticized for this claim. His remarks have hurt the feelings of people in many countries, especially Japan's Asian neighbors.
It is a widely known fact that 14 Class-A war criminals -- including wartime prime minister, Hideki Tojo who are honored at the Tokyo-based Yasukuni Shrine -- are notorious for the most atrocious crimes in Japan's war of aggression. Their hands were stained with the blood of Chinese people and people in other Asian countries.
Most of the Class-A criminals played a key role in Japan's aggression against China and committed atrocious crimes against the Chinese people. There is no way these war criminals can be exonerated.
The worshipping of the criminals by Japanese politicians provokes the Chinese and hurts our feelings. Japan's defiance of the sentence handed down by the International Military Tribunal for the Far East is a flagrant betrayal of justice.
Morioka, also a member of a parliamentary council on history education and chairman of the so-called "protecting territory parliamentary federation," organized a meeting in March with Japan's right-wing groups to whitewash war criminals.
Japanese Prime Minister Junichiro Koizumi's remarks on the history issue also connive with right-wing activities. Koizumi, who has repeatedly visited the notorious Yasukuni Shrine, said last week that his visits there are "unrelated to the crimes of Class-A war criminals."
In response to these ridiculous statements, Japan's opposition parties lashed out on Friday against the remarks of Koizumi and Morioka.
Social Democratic Party Secretary-General Seiji Mataichi said, "Morioka apparently has an erroneous historical perception. The prime minister is responsible because his wrong political stances and foreign policy have spread among the government and the members of the ruling parties to a great extent."
Meanwhile, Japanese Communist Party Chairman Kazuo Shii said the remarks of Koizumi and Morioka glorified the war of aggression. Shii said Koizumi's shrine visits are tantamount to honoring Class-A war criminals.
In the year of the 60th anniversary of the Allied victory in World War II, Japanese politicians have tried to exonerate Class-A war criminals. This brings up a question for the world -- what is the role Japan will play in the international arena?
Japanese leaders have time and again hurt the feelings of Chinese people and damaged the political foundation of bilateral relations, while repeatedly paying lip service to developing Sino-Japanese friendly ties.
This makes people worry about Japan's real intentions, casting doubt over whether Japan truly wants peace and development.
The Yasukuni Shrine issue is in fact a matter of facing up to history. Japan must show deep remorse over its history of aggression with concrete efforts, which will help it to gain trust from the international community, especially from the Asian neighbors who suffered at its hands.
(China Daily May 30, 2005)