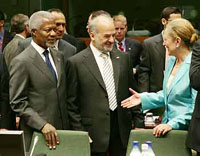 The International Conference on Iraq, which ended in Brussels on Wednesday, reiterated the will of the international community to assist Iraq in its reconstruction.
In a concluding statement, foreign ministers and senior officials from over 80 countries and 11 international and regional organizations vowed to "support Iraq's political transitional process, to encourage its economic recovery and reconstruction, and to help establish the rule of law and public order."
"The participants expressed support for Iraqi efforts to achieve a democratic, pluralist, federal and unified Iraq, ... They reaffirmed their commitment to the independence, sovereignty, unity and territorial integrity of Iraq," said the statement.
The Iraqi delegation, headed by Iraqi prime minister Ibrahim al-Jaafari, made their own commitments to the conference on the political process.
The delegation pledged that a constitution is to be drafted by Aug. 15, 2005, and approved through a national referendum by Oct. 15, 2005, leading to a constitutionally elected government by Dec.31 this year.
The participants also recalled commitments made to reduce Iraq's debt and called on other creditors to provide debt relief.
They also invited countries that have not yet pledged to join the international efforts supporting the reconstruction process.
Luxembourg Foreign Minister Jean Asselborn, who chaired the conference together with US Secretary of State Condoleezza Rice, said the Fourth Donors Conference on Iraq will be held in Amman of Jordan on July 18-19.
(Xinhua News Agency June 23, 2005)