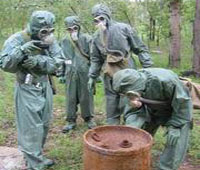 China
Friday urged
Japan
to seriously deal with the accident that the Japanese chemical weapons, which were left in
China
after the World War II, injured some Chinese in a construction site Monday in northeast
China
's
Heilongjiang
Province
.
Fu Ying, director of the Asia department of Chinese Foreign Ministry, called in a minister of the Japanese embassy in China Friday afternoon and lodged solemn representations.
Fu said that the use of chemical and biological weapons was a severe crime of Japanese invaders during the Second World War and the deserted Japanese chemical weapons seriously had injured Chinese civilians for many times after the war.
Japan shoulders unshirkable responsibility for resolving the problem, Fu said.
Fu urged the Japanese side to tackle the issue seriously and shoulder relevant responsibility and obligation for the Chinese losses.
China has helped destroy these left Japanese chemical weapons, hoping that Japan can speed up the progress and resolve the problem thoroughly at an early date, Fu said.
(Xinhua News Agency August 9, 2003)