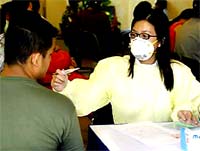 Singapore health officials said Tuesday that additional tests have revealed that a laboratory technician has SARS in what would be the first new case of the contagious disease since it was contained two months ago. The World Health Organization urged caution, saying more tests were needed.
The Ministry of Health said it was not known how the 27-year-old Singaporean man — a post-doctoral student working on the West Nile virus — contracted the illness.
"It appears to be a single isolated case," a ministry statement said.
Twenty-five people who came in contact with the man have been ordered into home quarantine, the statement said.
WHO spokesman Dick Thompson described the laboratory results as "perplexing" and said more tests needed to be done, preferably in another country according to standard practice.
"We don't have confirmation yet of SARS. What we do have is a report of a case from Singapore. The case itself does not fit our case definition," Thompson said, stressing he was not casting doubt on Singapore's results. "We are urging that people take necessary precautions as if this were SARS but at this moment it doesn't fit the clinical definition of SARS."
Thompson also pointed out that the man was a virologist and so may have been subjected to some occupational exposure. None of his contacts have developed a fever so far.
"Even if it does turn out to be a SARS case it seems to be a well isolated case," he said.
The World Health Organization announced that SARS had been contained in early July after removing the last SARS hot spot — Taiwan — from its list of infected areas.
The case is Singapore's first in four months.
Acting Minister of Health Khaw Boon Wan said the man had no recent travel history and no known contact with any SARS patients.
Khaw also told reporters that he thought the man posed a "low public health risk" because he was isolated quickly.
If confirmed, the Singapore case would mark the return of severe acute respiratory syndrome, which killed more 900 people and devastated tourism industries worldwide after it was first reported last November in China. More than 8,400 people were sickened before WHO declared in June that the disease had been "stopped dead in its tracks."
WHO regional spokesman Peter Cordingley told reporters in the Philippines earlier Tuesday that the man's lungs had no signs of inflammation associated with SARS, although he had fever and some rash.
Cordingley also said that by the WHO's definition of a probable case, there must be at least two SARS patients reported in the same hospital environment.
Khaw also sought to play down the risk of a new outbreak.
"I don't think this is a repeat of the crisis many months ago," Khaw said.
SARS virus samples were handled at the Environmental Health Institute lab at the National Environment Agency where the man worked, Khaw said. But he refused to speculate on whether the man may have gotten sick from samples in the lab.
The last case of SARS here was reported in early May and Singapore's tough isolation measures were praised by the WHO. The disease killed 33 and sickened 238 in Singapore.
Singapore's SARS epidemic began in March this year and raged for three months, sending the city-state's economy into a tailspin. Visitor arrivals fell by as much as 75 percent and hotel occupancy rates plunged from their average 75 percent to as low as 25 percent as tourists and business travelers stayed away.
(China Daily September 10, 2003)