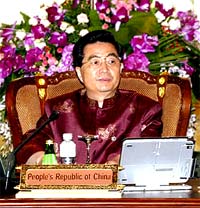 Chinese President Hu Jintao said in Bangkok Tuesday that it is imperative for the international community to intensify the campaign against terrorism in all its forms and manifestations.
"Though the war on terror has made significant headway since the Sept. 11 incident, we must recognize that threats of terrorism are still very much around and its challenge to the world remains formidable," Hu said in a speech at the second-day session of the 11th Economic Leaders' Meeting of the Asia-Pacific Economic Cooperation (APEC) forum.
To achieve an ultimate victory against terrorism, efforts to tackle both the root causes and symptoms of the problem are required, said the Chinese president.
Conflicts and upheavals are ideal breeding ground for terrorism while poverty and backwardness the rich tool for its growth, he said.
"If we are to root out terrorism, we should try a three-pronged approach -- easing regional and international tensions, eliminating poverty, and enhancing anti-terrorism cooperation -- that features a combination of political, economic, social and other endeavors," he said.
In the future, Hu said, APEC should give full scope to its own advantages in light of the region's situation and actual needs, deepen anti-terrorism cooperation and enhance capacity building in the members, with a view to safeguarding regional peace and stability and promoting regional development and prosperity.
"China, too, is a victim of terrorism," he said. "We are firmly opposed to terrorism in all its forms and manifestations and support all just actions against terrorism by the international community."
China's anti-terror efforts are an important component of the international war on terror, said the Chinese president.
"Fighting terrorism and protecting the lives and property of our citizens are a major responsibility that none of us can evade," he said.
He called on all APEC members to stand in unity and work closely to safeguard peace and stability in the Asia-Pacific region and to promote regional development and prosperity.
(Xinhua News Agency October 22, 2003)