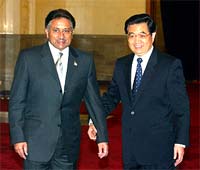 China's new leadership cherishes the long-standing Sino-Pakistani relationship and will work closely with Pakistan to push bilateral cooperative relations to a higher level, President Hu Jintao said in Beijing Monday.
"We appreciate the valuable support provided by the Pakistani Government in dealing with major issues concerning China's sovereignty and interests,'' Hu said when meeting with Pakistani President Pervez Musharraf.
The Pakistani people value their traditional friendship with Chinese people and are inspired by China's modernization process, echoed Musharraf.
To boost Sino-Pakistani ties, Hu suggested the two nations maintain frequent high-level official visits and promote friendly exchanges between government departments and people from all walks of life.
Mutual cooperation in economics, trade, science and technology should be strengthened and preferential trade policies should be implemented, Hu said.
Musharraf said economic and trade cooperation with China have resulted in numerous achievements, but added there is still vast development potential to be tapped between the two nations.
Pakistan would welcome more Chinese investment in its infrastructure, mine and resources projects, Musharraf said.
Pakistan is to further enhance cooperation and exchanges with China in tourism, culture, education and other fields.
The Chinese president suggested the two nations deepen cooperation in the non-traditional security field and join forces to fight against drug trafficking, cross-border crimes, and the forces that threaten regional peace and stability.
The two nations should also maintain exchanges and coordination in coping with international and regional affairs, Hu said.
Agreeing with Hu, Musharraf stressed that Pakistan firmly opposes terrorism and forbids any people to conduct anti-China activities on Pakistan's land.
Hu said China will continue to support the reconciliation process between Pakistan and India, and will play a constructive role in pushing forward regional peace, safety and stability in South Asia.
After their meeting, the two leaders inked the joint declaration of development on bilateral cooperation and appeared at a signing ceremony for a series of bilateral cooperative documents.
Before yesterday's meeting with Hu the Pakistani president attended the Boao Forum for Asia Annual Conference 2003, which opened in South China's Hainan on Sunday.
(China Daily November 4, 2003)