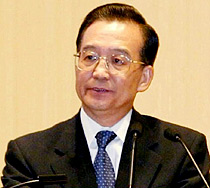 Chinese and African leaders attending the Second Ministerial Conference of the Forum on China-Africa Cooperation Monday expressed their common desire to further strengthen economic and trade relations.
"China has taken further measures to increase imports from African countries, and the China-Africa two-way trade is increasing by more than 20 percent (annually),'' said Premier Wen Jiabao during the conference's opening ceremony. He is paying a three-day official visit to Ethiopia.
Wen said the two sides should strengthen high-level exchanges through regular leadership meetings and dialogue within the framework of the forum.
China will continue to urge the international community to help African countries settle conflicts, participate in UN peacekeeping operations in Africa and provide assistance to the peacekeeping efforts by African regional organizations.
Wen said Africa and China share a common interest in the further democratization of international relations. This should be achieved through more intense consultations, Wen added.
At the same time, China supports Africa's position on multilateralism.
Wen called on developing countries to meet the challenges of globalization together.
Developed countries, for their part, should take up their obligations to developing countries by eliminating trade barriers and farm subsides.
Under the framework of the China-Africa Cooperation Forum, China will increase its aid to Africa, further open its domestic market and grant duty-free market access to some commodities from the least developed countries in Africa, Wen said.
For example, China will increase its investment to the Africa Human Resources Development Fund by 33 percent and provide professional training to 10,000 African personnel in the next three years, Wen said.
To accelerate tourism cooperation with Africa, China will grant eight more African countries, including Kenya and Zimbabwe, approved destination status for outbound Chinese tourists, Wen disclosed.
Expressing appreciation towards China's support for Africa's development, Ethiopian Prime Minister Meles Zenawi said the Chinese Government should be commended for taking significant steps to cancel debt of 31 African countries.
"China's exemplary endeavor to ease African countries' debt problem is indeed a true expression of solidarity and commitment,'' he said.
Delegates from China and 44 African countries attended yesterday's meeting, including national leaders from 13 African countries and ministers in charge of foreign affairs and international trade.
(China Daily December 16, 2003)