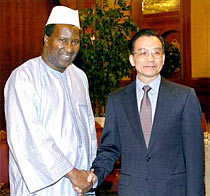 A new agreement between China and many African countries should go a long way towards furthering ties and trade, benefiting African residents.
After two days of intensive talks, delegates at the Second Ministerial Conference of the China-Africa Cooperation Forum agreed on the Addis Ababa Action Plan (2004-06) on Monday.
The plan aims to promote cooperation in a wide range of fields between China and numerous African countries.
At the same time, on the sidelines of the conference, a three-day China-African business meeting, which attracted more than 200 entrepreneurs from China and 250 from Africa, also concluded with the signing of agreements or memorandums of understanding on 20 projects in Africa, totaling US$680 million, forum organizers said.
Hailing the China-Africa forum as a great step forward in relations between China and African officials, Chinese Vice Commerce Minister Wei Jianguo said the conference will inject fresh strength and vitality to Sino-African cooperation.
Speaking at the closing ceremony of the ministerial conference, he called on all countries involved to implement the consensus reached and adopt practical measures to turn the action plan into reality.
The action plan will serve as a guideline for cooperation between the two sides throughout the next three years.
According to the plan, China and Africa will seek to strengthen collaboration in political affairs, peace and stability issues, multilateral cooperation, economic and social development and follow-up mechanisms.
Concerning the complexity of non-traditional security issues, such as terrorism, illegal migration, infectious diseases and natural disasters, the delegates agreed to address them with an integrated approach of political, economic, legal, scientific and technological views.
China supports Africa's efforts to prevent and combat terrorism, including the adoption of a counter-terrorism convention and the establishment of an anti-terrorism studies and research center, the action plan notes.
In economic and trade development, China and the African countries agreed to look at furthering relations connected with agriculture, infrastructure construction, two-way trade, investment, tourism cooperation, debt relief, development assistance and natural resources and energy development.
Leaders hail strong friendship
Meanwhile, leaders from African countries were unanimous in their desire to strengthen ties with China and China's entrepreneurs.
In the last leg of a four-country tour, Premier Wen Jiabao met with 13 African leaders during the Second Ministerial Conference of the China-Africa Cooperation Forum.
The participation of so many African leaders shows the importance they attach both to dialogue and to the profound friendship between Chinese and African people, Wen said.
China and African countries can develop relationships based on mutual respect and trust; moreover, China is prepared to enhance South-South cooperation and promote bilateral relations, Wen added.
With similar views in regards to many major international issues and with a common belief in cooperation, China and African countries can work together for world peace and development, he noted.
Forty years of fruitful cooperation and friendship between Congo and China have established a solid foundation for the two countries to expand cooperation, said Denis Sassou, president of the Republic of Congo.
Supporting China's great course of reunification, President of Mozambique Joaquim Alberto Chissano told Wen lots of Chinese companies have participated in the construction of railways, hospitals, housing and other infrastructure projects in his country.
After a four-nation tour to the United States, Canada, Mexico and Ethiopia, Premier Wen is scheduled to return to Beijing today.
(China Daily December 17, 2003)