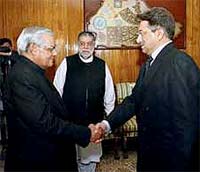 Indian Prime Minister Atal Bihari Vajpayee and Pakistani President Pervez Musharraf in Islamabad Monday held their first official meeting in more than two years.
The meeting was held at the President House in Islamabad on the sidelines of the ongoing 12th Summit of the South Asian Association for Regional Cooperation (SAARC) which opened here Sunday.
The closed-door meeting started at about 10:30 am local time (0530 GMT). Vajpayee said that his meeting with Musharraf ended on "positive note."
The talks were also attended by the foreign ministers of India and Pakistan, Yashwant Sinha and Mian Khurshid Mahmood Kasuri, and the foreign secretaries of the two sides Shashank Mishra and Aziz Khohar, along with other senior officials, sources told Xinhua.
On Sunday, Vajpayee held an ice-breaking meeting with his Pakistani counterpart Mir Zafarullah Khan Jamali after the opening of the SAARC summit meeting, raising high hopes for a one-on-one meeting between Vajpayee and Musharraf.
The two leaders of the heavy weights of the South Asian regional bloc held their last official meeting in the northern Indian city of Agra in July 2001.
(Xinhua News Agency January 5, 2004)