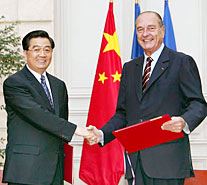 Visiting Chinese President Hu Jintao said Tuesday that the joint declaration he and his French counterpart, Jacques Chirac, signed will play an important role in boosting Sino-French ties in the future.
Speaking at a joint press conference held after talks with Chirac, Hu said the declaration reviewed the growth of the Sino-French comprehensive strategic partnership established since 1997.
The declaration also put forward the steps to boost cooperation in the political, economic, military, cultural, scientific and technological fields and set the direction for coordination and dialogue in major international affairs, he added.
Hu expressed his belief that the declaration will play an important role in promoting the Sino-French relations in the future.
For his part, Chirac said the two sides have started a process that will increase exchanges between the two countries, and France is willing to promote the exchanges with China.
The French president said he believed that the bilateral economic and trade ties can be promoted with the guidelines the two sides set, including measures to encourage business between French and Chinese enterprises and boost cooperation in areas like infrastructure, nuclear energy, railway and aviation.
Hu said he had exchanged in-depth views with Chirac during their talks on major regional and international issues and they reached consensus on a wide range of issues.
They also agreed that in such a complicated international situation, China and France should intensify coordination and cooperation to meet the challenges and contribute to the realization of lasting world peace and common prosperity, Hu said.
Hu also said the Sino-French relations have been consolidated and deepened in various aspects due to the joint efforts of their leaders since the two countries established diplomatic ties 40 years ago.
On Wednesday, Hu will make a stopover at the European aircraft manufacturer Airbus in the southern French city of Toulouse before his visit to Egypt.
The Chinese president revealed late yesterday that China Southern Airlines recently agreed to buy 21 Airbus aircraft.
According to a survey published in Sunday's edition of the newspaper Le Journal du Dimanche, 85 percent of the French public want trade relations to improve between the two countries, and 68 percent say they have a good impression of China. The survey was conducted last December.
Tuesday afternoon (local time), Hu became the first Asian leader to address the National Assembly, the lower house of the French parliament.
Hu hailed the sound development of Sino-French relations and called on all peace-loving peoples and nations in the world to join hands in safeguarding world peace and promoting common development.
(Sources from Xinhua News Agency and China Daily January 28, 2004)