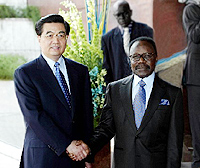 Visiting Chinese President Hu Jintao in Libreville Monday held talks with his Gabonese counterpart El Hadj Omar Bongo Ondimba on bilateral relations and other issues of common concern.
Hu said China highly values the development of China-Gabon relationship since the two countries established diplomatic relations 30 years ago.
The smooth and stable development, said Hu, has been witnessed by frequent exchange of visits of leaders, fruitful cooperation in economy, trade, culture, education and public health, as well as close consultations and coordination in international affairs.
The Chinese leader expressed his appreciation for Gabon's adherence to the one-China policy and support for China's reunification, noting China values the traditional friendship with Gabon.
Hu made suggestions for promoting the bilateral friendly cooperation by keeping the momentum of high-level exchanges, and enhancing economic and trade cooperation with emphasis on agriculture, infrastructure, resources development and human resources.
He said the two countries should strengthen consultation and cooperation in international affairs, make joint efforts to meet challenges brought about by changes in international situation, safeguard the legitimate rights and interests of developing countries as well as make contribution to peace and development of Africa and the whole world.
Economic and trade cooperation between China and Gabon, said Hu, has been mutually beneficial and fruitful, noting the Chinese government would continue to encourage and support various forms of cooperation between Chinese and Gabonese enterprises.
He said China is willing to work closely with all African countries to promote the new partnership characterized by comprehensive cooperation and mutual development.
The Chinese president said China's fundamental policy towards Africa is to consolidate and develop traditional friendship between the two peoples, respect the model for development chosen by the African people, support each other in international and regional affairs, as well as defend the legitimate rights and interests of developing countries.
He also vowed to continue to aid the African countries within China's capability on the basis of mutual respect, learning from each other, mutual benefit and equality.
President Bongo, while expressing his welcome to Hu's visit that coincides with the 30th anniversary of the establishment of the two countries' diplomatic relations, gave full agreement to Hu's proposals on the promotion of bilateral cooperation.
He considered that resources development, agriculture and infrastructure should be the key areas of bilateral cooperation based on mutual benefit. He welcomed more Chinese enterprises to Gabon for investment.
He also said his country would uphold the One-China policy and support China's efforts to pursue reunification and territorial integrity.
He spokes highly of the achievement of the China-Africa Cooperation Forum, welcoming China's closer ties with African counties.
The two presidents attended the signing ceremony of three bilateral cooperation agreements after their talks.
Hu arrived here Sunday afternoon on a three-day state visit to Gabon, the first by a Chinese head of state since the two countries established diplomatic relations 30 years ago.
Gabon is the third leg of Hu's four-nation tour, which has taken him to France and Egypt. The Chinese president will proceed to Algeria for a state visit after his stay here.
(Xinhua News Agency February 3, 2004)