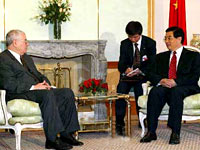 China is willing to promote friendly cooperation with Algeria in all fields in the new century, said visiting Chinese President Hu Jintao in Algiers Wednesday.
Hu made the remarks when meeting separately with President of the Council of the Nation Abdelkader Bensalah, Speaker of the National Assembly Karim Younes and Prime Minister Ahmed Ouyahia.
During his meeting with Bensalah and Younes, Hu praised highly of the traditional friendship between the two peoples and the remarkable achievements of cooperation since China and Algeria established diplomatic ties 45 years ago.
Hu said the Chinese government treasures the friendship and attaches great importance to developing the cooperation in all fields, noting the two countries have supported each other and enjoyed close coordination in both international and regional affairs.
The Chinese president hoped the two countries' legislative bodies would continue to conduct exchanges of visits and learn from each other so as to contribute to their own domestic construction as well as the development of bilateral relations.
Bensalah, president of Algeria's upper house, said his country is willing to strengthen ties with China in all fields, learn from China's experience of development and boost mutual development of the two countries.
Younes, speaker of the lower house, hailed China as a good example of the developing countries for its fast development which has attracted worldwide attention, saying Algeria's National Assembly hoped to strengthen cooperation with China so as to better safeguard the rights and interests of the developing countries.
During his meeting with Algerian Prime Minister Ahmed Ouyahia, Hu said China attaches great importance to the development of the strategic partnership between the two countries and wishes to deepen bilateral cooperation in all fields in order to add vitality to the friendship in the new century.
On bilateral trade, Hu said Algeria is already an important partner in the economic cooperation between China and Africa, adding that bilateral economic and trade cooperation is highly complementary and has great potential and broad prospect.
Both sides should work hard to explore new areas of economic growth and further expand the bilateral trade and cooperation in infrastructure, agriculture and human resources, Hu said.
Hu said China supports Chinese manufacturers of household electrical appliances, medicine and textile to cooperate in various ways with their Algerian counterparts.
Both governments would give guidance and provide convenience to the entrepreneurs from both sides and steadily upgrade laws and regulations on investment, taxation and visa affairs so as to create a better investment and business environment, Hu said.
Ouyahia said the cooperation between China and Algeria is all-dimensional and fruitful with broad prospects.
Algeria welcomed more Chinese companies to invest in the country and take more active part in the construction of railways, dams, highways, civil buildings and oil exploration, he said.
The Chinese president arrived here Tuesday for a state visit to the North African country. Algeria is the last leg of the Chinese president's four-nation tour, which had taken him to France, Egypt and Gabon. He is scheduled to leave here for Beijing on Wednesday.
(Xinhua News Agency February 5, 2004)