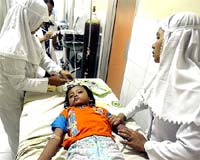 The number of death toll caused by the dengue fever across Indonesia reaches 188 and the sufferers increase to 9,365 people, the Indonesian health minister said late Thursday.
Ahmad Suyudi said that if the spread of the disease could not be stopped the number of the figure could be doubled at the end of this month.
"The death toll is 188 people and the sufferers across Indonesia are 9,365 people," he told a press conference held in Jakarta.
"It is estimated ... at the end of the month, it could be 15,000 sufferers."
He said that the epidemic was caused by the lateness of diagnosis and of bringing the patients to hospitals.
Earlier in the day, the minister said that the disease spread fast and it may mutate to be a new virulent.
"It is being examined in our laboratory," he said.
Sujudi urged people to donate their blood for helping the patience.
On the same occasion, the Minister of People Welfare and Poverty Alleviation Yusuf Kalla reminded that the government had to seriously overcome the problem, as it was more dangerous than the severe acute respiratory syndrome (SARS) and the bird flu.
"One of the 50 sufferers died, because it is more dangerous than the SARS and the bird flu," he said.
He said that on Friday the government would ask mosques across the country to announce the cleaning movement.
The dengue fever has hit Indonesia since January.
The death toll which came from 10 provinces across the world's fourth-most-populous nation went up more than 100 percent since February 17 with 91 people having died.
Jakarta was the most infected area.
The fever was carried by the aedes aegpty mosquito which contained the disease.
(Xinhua News Agency February 20, 2004)