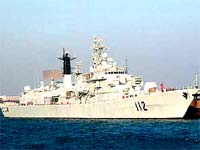 Two Chinese naval warships and two French warships are engaged in a joint maritime drill Tuesday off the coast of Qingdao, a port city in east China's Shandong Province.
The one-day exercise, including tactical maneuvers, fleet formation, shipboard helicopter flying and landing at sea, refueling exercises at sea, communications and search-and-rescue exercises, is so far the largest joint drill held by the Chinese and any foreign navy, sources from the North China Sea Fleet of the People's Liberation Army (PLA) Navy said.
China's guided missile destroyer "Harbin" and fuel tanker "Hongze Lake" as well as French anti-submarine-warfare destroyer "Latouche-Treville" and light frigate "Commandant Birot" played the main roles in the maritime exercises. Two shipboard helicopters also joined the drills, sources said.
The exercises, jointly directed by Zhang Panhong, chief of the General Staff of the North China Sea Fleet, and Louis De Contenson, navy commander of the French Pacific Military Region, is expected to last about 8 hours and involve about 700 seamen.
Chinese, French shipboard helicopters land successfully in maritime drill
Chinese and French shipboard helicopters succeeded in landing aboard each other's warships in the joint military exercise on Tuesday.
The Chinese shipboard helicopter "Dolphin" landed aboard the French anti-submarine destroyer "Latouche-Treville", which was followed by the landing of French helicopter "Lynx" aboard the Chinese guided missile destroyer "Harbin".
The two helicopters took aerial photos in the drill before landing. The pilots of the two helicopters exchanged souvenirs after landing.
The Chinese pilots presented their French peers with badges for flying qualification. The French pilots gave a photo of a "Lynx" helicopter in return, with all crew members' signature on it.
The two navies had completed flag signal exchanges and fleet formation changes. The exercises are scheduled to cover refueling exercises at sea and search-and-rescue exercises.
(Xinhua News Agency March 16, 2004)