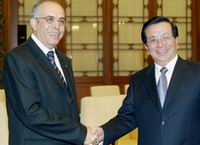 China is satisfied with the growth of ties with Tunisia during the past 40 years since the two forged diplomatic relations, said Chinese Vice President Zeng Qinghong in Beijing Thursday.
Zeng, also a member of the Standing Committee of the Political Bureau of the Central Committee of the Communist Party of China (CPC), made the remarks in his meeting with a Tunisian delegation led by Democratic Constitutional Rally (DCR) General Secretary Ali Chaouch.
Even though the two nations are located far from each other, Zeng said, China and Tunisia enjoy long-standing friendship.
In line with mutual respect and mutual benefit, the two countries scored steady growth in bilateral ties, he said.
Zeng also thanked Tunisia's adherence to the "one-China" stance and its support to China on human rights and other major issues.
CPC-DCR relations were also among the topics of their discussions. Zeng said that the CPC attaches importance to friendly ties with the DCR and the consolidation of inter-party relations can also push forward China-Tunisia state-to-state ties.
Chaouch expressed the same view on DCR-CPC relations. The in-depth exchange of views is conducive to the promotion of Tunisia-China friendship, he said.
The delegation is in Beijing at the invitation of CPC.
(Xinhua News Agency April 30, 2004)