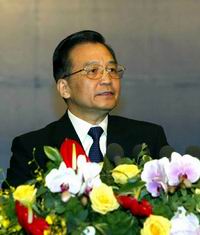 Chinese Premier Wen Jiabao reaffirmed China's serious commitment to reduce poverty in his speech at the opening ceremony of the Global Conference on Scaling Up Poverty Reduction in Shanghai Wednesday.
Wen said that with continued actions in poverty reduction and consistent pursuit of peace, development and prosperity, China will contribute its share in maintaining world peace and promoting common development.
He pointed out that eliminating poverty in a country of 1.3 billion people is in itself a major contribution to the global cause of poverty reduction.
The Chinese government always cherishes friendship, honors responsibility and keeps good faith, he said. China will do its utmost to promote South-South cooperation, gradually increase its development assistance to poor countries within its own capability and expand its trade and investment with other developing countries.
(Xinhua News Agency May 26, 2004)