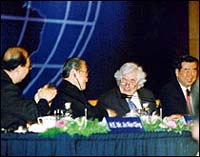 China's success in the fight against poverty was the focus of the Global Conference on Scaling Up Poverty Reduction in Shanghai, which ended Thursday.
Co-organized by the World Bank and the Chinese government, the two-day event provided a platform for more than 1,000 delegates, mostly from the developing world, to share their experience in poverty alleviation.
As World Bank President James D. Wolfensohn and other leaders of developing countries and institutions pointed out, China's unprecedented success on the issue is not only a great contribution to global poverty reduction, but also a good source of experience and skill.
In the past two decades, China has lifted more than 300 million people out of poverty.
Vice Premier Hui Liangyu said at Thursday's closing session that China will have greater determination and take stronger measures to reduce poverty by speeding up development and creating a sound macro-environment for poverty reduction.
"This is the solemn commitment of the Chinese government to all Chinese people, to the implementation of the United Nation's Millennium Development Goals and of the consensus reached at the Global Conference on Scaling Up Poverty Reduction," he said.
Jin Renqing, China's finance minister attributed China's success to the country's economic growth and the government's fiscal policy to support less-developed areas.
"Only when the fiscal pie is bigger, can we allocate more funds and resources to poverty alleviation," he told a press conference Thursday.
Last year, China's fiscal revenue hit nearly 2.2 trillion yuan (US$265.7 billion), compared with 400 billion (US$48 billion) in 1993.
More importantly, the revenue boost helped increase the amount dedicated to poverty reduction.
According to Vice Minister of Finance Liao Xiaojun, in the past 24 years, the central government has allocates more than 120 billion (US$14.5 billion). Last year alone, the central government put 12.2 billion yuan (US$1.47 billion) towards the problem, compared with 500 million yuan (US$60 million) in 1980.
Both Chinese and World Bank leaders said poverty is a priority on the global agenda. Other issues, such as terrorism, should not distract from efforts to fight it.
Wolfensohn said the developed world should reduce trade barriers, provide more aid and help developing countries build up capacity.
Li Yong, another vice minister of finance, said developed countries should increase their aid and gradually reach 0.7 percent of their national gross product, a level set by the United Nations (UN).
He also said that the international community should explore a supervision mechanism to make sure all countries, developing or developed, integrate the Millennium Development Goals into their national development strategies.
"China will exert its utmost energy in gradually increasing its development assistance for poor countries," Vice Premier Hui said.
(China Daily May 28, 2004)