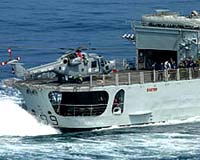 The Sino-British maritime exercise concluded Sunday off the coast of Qingdao, port city in east China's Shandong Province.
Chinese warships "Harbin" and "Hongze Lake" and British warship "Exeter" completed all the scheduled programs including communication exercises, fleet order changing and search-and-rescue.
Qian Lihua, deputy director of the Foreign Affairs Office of Chinese Ministry of National Defense, said China has strengthened its international and regional cooperation in nontraditional security fields in recent years.
China is devoted to promoting the new security concept featuring mutual trust, mutual benefit, equality and cooperation, he said.
Zhang Panhong, chief of the general staff of the North Sea Fleet of People's Liberation Army Navy (PLAN), said the PLAN will continue to strengthen its exchanges and cooperation with foreign counterparts for peace and security of the Asian Pacific region and the world.
After the exercise, the British fleet continued their voyage for their next destination, the Republic of Korea.
Sino-British maritime drill unveils new chapter of int'l security cooperation
The joint maritime exercise between China and Britain navies on Sunday unveiled China's new concept of international security cooperation.
Three months ago, China's guided missile destroyer "Harbin" and fuel tanker "Hongze Lake" participated in a maritime exercise with a French fleet. Today "Harbin" and "Hongze Lake" hold a maritime exercise again with the guided missile destroyer HMS "Exeter" of British Royal Navy.
The Sino-British one-day exercise has three stages involving light flashing, flag voices, fleet formation changes, shipboard helicopter flying and search-and-rescue.
This year is the fiftieth anniversary of the establishment of Sino-British diplomatic ties. With Chinese Premier Wen Jiabao's visit to Britain earlier this year, China and Britain have established the all-around strategic partnership.
Since 2002, China has strengthened its international and regional cooperation in the field of nontraditional security, cooperating with a number of foreign armed forces in joint exercises, said Qian Lihua.
Qian said China is more cooperative with the international community to fight terrorism and to safeguard national security, due to the rising threats in the nontraditional security field.
Ouyang Wei, a strategic expert from the National Defense University, said the series of military maneuvers reflected a step forward by the Chinese armed forces to implement new security concepts featuring mutual trust, mutual benefit, equality and cooperation.
In 2002, China set the principle of gradual participation in multilateral military exercises to broaden its security cooperation with other countries. This principle was also put into practice by the frequent joint military exercises and high-level military cooperation.
Ouyang Wei said the Chinese government and armed forces were concerned at threats to its domestic security and hoped for common security through close military cooperation with foreign countries to combat these threats. The joint military exercises in 2003 were conducted with careful preparation and proper organization, which was unprecedented in the history of the People's Liberation Army (PLA) since its founding.
From Aug. 6 to 12, 2003, armed forces from five Shanghai Cooperation Organization (SCO) member countries including China, Kazakhstan, Kyrgyzstan, Russia and Tajikistan took part in a joint anti-terror exercise named "Coalition 2003". It was the first exercise of its kind within the framework of the SCO, an organization primarily established to crack down on the "three forces" of terrorism, separatism and extremism. It was also the first time China had participated in multilateral joint military maneuvers. In this exercise, the coalition forces displayed their military competence with modern equipment and exchanged their anti-terrorism experience.
On Oct. 22,2003, Chinese and Pakistani naval forces conducted a joint search and rescue exercise off the coast of Shanghai in the East China Sea. It was the first time the Chinese naval forces had held a joint exercise with their foreign counterpart since the founding of the People's Republic of China. In the exercise code-named "dolphin 0310", the two navies took part in anti-terrorism and joint search and rescue drills with warships and helicopters.
The first ever joint naval exercise between China and India was put under the spotlight on Nov. 14, 2003. This was another achievement in Sino-Indian exchanges since Indian Minister of Defense George Fernandes visited China in April this year. In the exercise, the Indian fleet, comprising three warships, the guided missile destroyer INS Ranjit, the guided missile corvette INS Kulish and the fuel tanker INS Jyoti, joined the Chinese navy in the search and rescue exercises off the coast of Shanghai, with more than 1,500 navy officers and soldiers. Chinese soldiers also observed other anti-terrorism military exercises in other countries.
China was invited to observe this year's Cobra Gold, a US-Thailand-Singapore joint military exercise held in May 2003, and Chinese observers were present at the strategic naval exercise launched by Russian Pacific Fleet in late August.
In August, 2003, China, for the first time, invited foreign military observers from 15 countries to watch military maneuvers at China's largest tactical drill base, aiming at introducing Chinese armed forces to the world and strengthening cooperation with foreign armed forces.
On March 16, 2004, China held the first maritime drills with France. China's guided missile destroyer "Harbin" and fuel tanker "Hongze Lake" as well as French anti-submarine-warfare destroyer "Latouche-Treville" and light frigate "Commandant Birot" played the main roles in the maritime exercises. Two shipboard helicopters also joined the drills. The two fleets successfully conducted fleet order changes, shipboard helicopter flying and landing at sea, communications and search-and-rescue exercises in the one-day drills.
Qian Lihua said the joint military exercises, as an important channel to carry out international military cooperation, were conducive to improving China's ability to participate in international affairs. The Chinese people love peace and so do the Chinese armed forces.
The essence of China's new security concept is to seek common security through reciprocal cooperation with other countries, which is based on common interests of world people and conform to development of world people, Qian said.
(Xinhua News Agency June 21, 2004)