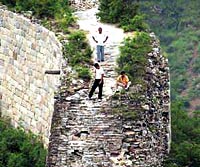 Beginning in August, hikers and visitors will not be permitted to explore those unprotected sections of the Great Wall around Beijing. This was written in various Great Wall Protection Measures promulgated by the Beijing Municipality on Friday to retain the authentic flavor of the Great Wall.
For those who have only been to the officially recommended sections of the Great Wall, it might take a while for them to link these not-so-gorgeous parts of the Wall to the symbol of Chinese civilization. Due to centuries of natural deterioration and insufficient protection, quite a significant portion of the Great Wall is in poor shape. But this natural beauty has never held back the enthusiasm of intrepid explorers.
"I prefer visiting the un-restored parts of the Great Wall to the refurbished tourist sites. It makes me feel the impulse of history," said a visitor.
The Great Wall extends some 6,000 kilometers from Jiayu Pass in Gansu Province in the West to the Shanhai Pass in Hebei Province's northeast. The Beijing section spans only 600 kilometers, at least half of this lacking governmental protection.
As more and more Chinese look for new and different cultural activities, the unrestored parts of the Great Wall have become popular tourist spots. The quiet and natural scenery make them believe that only here can they find the real Wall. But they may not realize that without proper protection, these sections of the Wall will further deteriorate, seriously endangering this national treasure.
With the increasing number of hikers coming to explore the wild section of the Great Wall, local villagers continuously think of new ways to make money out of the world relics. Bridges and ladders were randomly built for pass fees. Hotels and shops were set up close to the Wall, inharmoniously side-by-side with the aesthetic beauty of the world relic and its natural setting.
The newly promulgated rule prohibits the exploration of the undeveloped sections of the Great Wall. But it does not mean the end of the world for the Great Wall lovers.
Sun Ling, official of Policy and Regulation Division, Beijing Cultural Relics Bureau, said, "The wild sections of the Great Wall won't be closed to the public forever. As long as the local management works out preservation plans to convince us the Wall won't be damaged, they will officially reopen to the visitors."
Visitors might feel some regret, but at least, the enforcement of the rule will be the key to preserving this ancient world treasure for future generations.
(CCTV.com August 1, 2003)