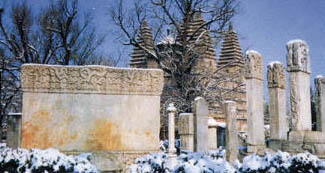 Beijing Stone Inscription Museum is located in the site of the former Zhen Jue Temple (general called as "Five Pagodas Temple") at Tuodong, Baishiqiao, Haidian District, Beijing.
The temple was built in the middle Yong Le Period of Ming Dynasty (the year 1403 to 1424) and was destroyed in the end of Qing Dynasty. The solely existing Buddha's Warrior Attendant's Throne in the temple, which was built up in the Cheng Hua 9th Year in Ming Dynasty, namely the year 1473, is listed as the first batch National Key Cultural Relic Protection Unit.
The outdoor exhibition of the stone inscription museum is focused on this huge and excellent ancient pagoda. According to the contents and functions, it can be divided to eight exhibition areas, which displays more than 500 kinds stone inscription cultural relics in different dynasties.
If the stone inscriptions collected by the museum itself are also added, then its total numbers may exceed 1000.
There are the earliest stone inscription in Beijing area that is preserved till today, the stone inscription pillar of Blessing Qin Jun in Han Gu Youzhou Road and its components, previous sculptures in Beichao Dynasty, epitaphs in different dynasty since Tang Dynasty, lots of stone carvings in Jin and Yuan Dynasty that have high artistic level, elaborate curved Shixiang Hall in Qing Dynasty, the epitaph of Nalanxinde's Wife, Lushi's unique sculpt and the calligraphies of Yijin Room, Jinghe Hall and etc...
What a collecting place of stone inscription it is! It is qualified to be entitled as the "Beijing Stone Forest ".
It writes the Beijing stone inscription cultural history through those rarities of Beijing stone inscriptions. The Human Being and Stone, Stone Inscription Brief History Exhibition in the Westside hall of the museum reveals the stone inscription culture development history through the methods of being integrated by pictures, articles and objects and foiling by the great surroundings.
It is supplemented with the material objects in the museum each other and has its own styles. We can thus conclude that Beijing Stone Inscription Museum is treasury of stone inscription knowledge and another classroom for reappearing human being's civilization history.
The museum holds two stone inscription culture exhibitions in each year and one Epigraphy, Calligraphy and Painting Festival in each two years. Moreover, Keluoban Printing and Reproducing Ancient Calligraphy and Painting Service Company also set in the museum, which has the first class technical level. In the museum, there are old trees and pagodas.
It is a silent and ideal place for people to start up study, authentic and research there. The museum is opening through the entire year and welcomes the guest both from aboard and in domestic to pay a visit.


Address: The site of the former Zhen Jue Temple (general called as "Five Pagodas Temple") at Tuodong, Baishiqiao, Haidian District, Beijing.
Bus route: Trolleybus Nos. 105, 107 and 111; Bus 320, 332 904, 716, 808 and T6.
Entrance Ticket: 5 yuan (60 US cents)
Open Time: 08:30-16:30
Tel: 010-62173543 62172894
(China.org.cn)