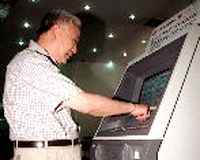 Air China, one of the country's three largest air groups, yesterday launched its electronic ticketing system for domestic flights from Shanghai. It will also upgrade its computer systems nationwide to offer the same service in Guangzhou, Shenzhen and Chengdu within the year.
Industry observers are skeptical about the success of the service.
The company first started the online service in Beijing at the beginning of July. Company officials say the new service is in response to requests from overseas passengers who hope to enjoy the same convenience in China as they have in their own countries.
"However, overseas passengers may wait until next year when we offer the service on international routes as we hope for the service to become established on domestic routes first," said Zhu Songyan, marketing manager with Air China.
The Beijing-based carrier, which operates the most international flights among Chinese carriers, said half of its annual turnover is from its international operations. Last year, it earned some 13 billion yuan (US$1.57 billion).
Air China is the latest domestic carrier to launch electronic tickets, a paperless way of buying tickets, to keep pace with their overseas counterparts in using the Internet to streamline booking procedures and cut costs.
Electronic tickets refer to passengers booking and paying for air tickets online. They will then check in at airports with numbers they have acquired online instead of the traditional paper tickets in hand.
Earlier this year, China Southern Airlines launched an online booking and payment service to all customers of China UnionPay, the nationwide online payment network which serves the majority of China's bankcard holders.
The Guangzhou-based carrier expects the paperless way to account for 40 percent of its domestic ticket sales by 2005.
Shanghai-based China Eastern Airlines, another major rival of Air China, also plans to promote its electronic tickets next month.
Industry sources see the move as evidence of increasing competition among domestic carriers.
The new service is expected to help airlines and travel agents reduce costs of having to deliver paper tickets to passengers.
"For those who book and pay online, we can save the labor force of ticket delivery. This part of labor accounts for about 10 percent of our total payroll," said Zhao Hong, general manager of Shanghai Guangfa Air-ticket Co Ltd, a local agency.
Industry insiders pointed out the service will also help the airlines lower costs by avoiding commission to agents.
However, the limited number of people who are accustomed to paying online with bankcards will be a main obstacle, insiders say.
"Online payment is not so popular in China as it's in other countries," said Zhu with Air China. "The promotion of paying online still has a long way to go."
(eastday.com August 28, 2003)