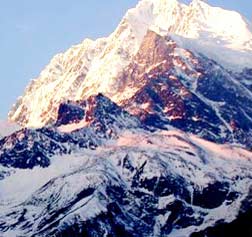 Hailuogou (Conch Gully) National Glacier Forest Park is located on the eastern side of Gonggar Mountain in Luding County of Tibetan Autonomous Prefecture of Garze, Sichuan Province. It is 319 km from Chengdu, the capital city of Sichuan Province and 105 km from Kangding, where administrative organs of the Garze Autonomous Prefecture are located. Glaciers in Hailuogou are typical modern marine glaciers, which are rarely found either in low-latitude places or at low altitude. Its lowest point is only 2,850 meters above sea level.
The park boasts many geographic attractions, including ancient glaciers, grand glacier cascade, virgin forests, wild animals and hot springs, etc.
Glaciers
Glaciers cover 31 square kilometers of the Conch Gully. Classified as Modern Glacier, they came into being 16 million years ago. The Grand Glacier Cascade -- 1,000 meters in height and 1,000 meters in width -- is the only one in the world. Its 6 km glacier tongue penetrates into the virgin forest, forming a rare natural landscape with the blend of glacier and forest.
Grand Glacier Cascade
The Grand Glacier Cascade, with a drop of 1,080 meters, is made up of numerous ice cubes. Looking like the milk way descending from heaven, it sends out brilliant rays in the sunshine.
Beyond the cascade there is a snow basin -- the source of the glacier. When the frozen water accumulates to a certain amount and the surplus ice and snow need to find a way out, there will be an avalanche. So, for safety's case, the snow basin can only be seen from afar, which is a pity for such a unique attraction. Moreover, the glacier fall may collapse at any time, too. During spring and summer, the dynamic seasons for glaciers, over 1,000 avalanches may happen in a day. In one such collapse, the falling ice can reach 1 million cubic meters. As electricity is produced during the hit and friction, blue sparks are sent out together with earth-shaking roaring.
Since the vista is several kilometers from the Grand Glacier Cascade, tourists do not need to worry about harms from even the biggest avalanche.
Hot Springs
Another special attraction of the Conch Gully is its hot springs hidden either in virgin forests or under the cover of snow and ice. The most noted ones are at No.1 and No. 2 campsites.
In No.2 Campsite, hot springs gush out from rock cracks year round, with a daily flow of 8,900 tons. Water temperature at the mouth can reach as high as 90 °C. The hot springs gush into a small pond, from where they drop down along a cliff to form a waterfall of eight meters wide and 10 meters high. The spring water is believed to be effective in curing diabetes, neuralgia, arthritis and gastroenteritis. Nearby, a swimming pool has been built in the open air for tourists' convenience.
There are also a big swimming pool and small-scale bathrooms in No.1 Campsite. The famous Gonggar Miraculous Fount is located at 1,600 meters above sea level, where travelers don't need to worry about altitude sickness. Still, most of the visitors favor hot springs in No.2 Campsite because they are rustic, with more natural taste.
Forests
Hailuogou was originally the valley of an ice-melted river on the eastern side of the Gonggar Mountain. With an elevation of 6,000 meters, it has seven climate zones and its vegetation varies at different levels of height, making it a rare natural botanic garden.
Virgin forests can be seen not far from the No.2 Campsite. Covering an area of 70 square km, the forests boast 4,800 species of plant, including fir, wild sweet-scented osmanthu, wild rhododendron, ginkgo, algum, magnolia, single-leafed grass, and such medicinal herbs as Chinese caterpillar fungus, caladium, pseudo-ginseng and tuber of elevated gastrodis.
Lake
Going up from the hot springs, tourists can find an ice lake, called Shuihaizi, or Water Sea. It looks like a gem imbedded in a wood of Chinese yew (Taxus chinensis), katsura tree (Cercidiphyllum japonicum), Kangding magnolia and big-leafed azalea. In sunny days, the snow mountain, green trees and blue sky all have their reflections in the lake, creating a dreamland.
The legendary place is also home to over 400 kinds of wild animals, including 28 endangered species under state protection. While roaming through the area, tourists may luckily encounter animals such as blue sheep, macaques, or even pandas and sunbirds.
Useful information


Climate: Hailuogou is 3,200-4,800 meters above sea level. Its average temperature in summer is 25 °C.


Transport:
Self-driving routes: Tourists can pick up one of the following three routes to get to Hailuogou.
Route 1. 280 km. It starts from Chengdu to reach Hailuogou via Chengya Expressway (Shuangliu, Xinjin, Qionglai, Mingshan and Ya'an), Tianquan and Erlangshan Tunnel. The whole trip needs 6-8 hours.
Chengdu – Erlangshan Tunnel: the expressway from Chengdu to Ya'an is 134 km. The section from Ya'an to Tianquan is 38 km, with two traffic lanes. The concrete road from Tianquan to Erlangshan is 110 km. The two-way Erlangshan Tunnel is 4.1 km.
Western Pass of Erlangshan Tunnel – Luding: Drive through the Erlangshan Tunnel to arrive at the county seat of Luding.


Luding – Moxi Township: The distance between Luding and Moxi is 52 km, with Daduhe Bridge on the way. The condition of the bridge is not bad.


Moxi Township – Hailuogou: From Moxi Township, tourists can drive straight into Hailuogou. A 30 km winding mountain macadam road connects the campsites of No. 1-3. Inside the scenic area, you have to take environment-friendly buses provided by the park.
A cableway connects No.3 Campsite with the vista of Grand Glacier Cascade. It costs 160 yuan/person for a roundtrip.
Tourists can also walk to the vista after buying their admission tickets at the entrance to the cableway. It needs one hour or so to get to the top of the cascade.
A bamboo litter is another choice: 60 yuan for a roundtrip.
Route 2: 468 km. It starts from Chengdu, via Chengya Expressway (Shuangliu, Xinjin, Qionglai, Mingshan and Ya'an), Bashan Mountain, Haiyuan and Shimian counties to reach Hailuogou. The drive is about 12 hours.
Route 3: 750 km. It starts from Chengdu, via Dujiangyan, Wolung Natural Reserve, Xiaojin, Danba and Luding counties to reach Hailuogou. The best of this route is that tourists can visit scenic attractions such as the Siguniang Mountain, fortress-like residential buildings, Tibetan Villages and the Moerduo Mountain as well as beautiful women of Danba County. Conditions of the roads are good except for the Kangding-Luding section. This is the best route for self-driving tourists.
DIY Travelers: You can go to Hailuogou by taking air-conditioned shuttle buses at the Xinnanmen (New South Gate) Bus Station in Chengdu. The fare is about 100 yuan/person. It takes five to six hours.
You can also take buses at Chadianzi Station in Chengdu to reach Luding, where you can tour the well-know Luding Bridge over the Dadu River. Then take a bus for Hailuogou. The whole trip is 322 km, which needs nine hours to cover.
After visiting the Conch Gully, tourists can go to Kangding, Mugecuo Lake, Paoma Mountain or back to Chengdu by selecting different buses.
There is usually only one bus a day going back to Chengdu, which starts at 6:00 AM; the fare costs about 100 yuan/person. If you miss this bus, you can pick up a private vehicle running from Moxi Township to Gan'gudi (20 yuan/person), then change to a bus for Chengdu. There are scores of buses to Chengdu from Gan'gudi.


There is no bus heading from Hailuogou to Kangding. Tourists have to hire private cars at Moxi Township. It may cost 50 yuan/person for this section.
Scenic spots within Hailuogou
Park Gate, Ice Pagoda Forest, Shuihaizi Lake, Vista of the Grand Glacier Cascade, Glacier Tongue, Jinyin (Gold and Silver) Mountain, Snow Basin, etc.
Distance between each campsite
Muoxi Township (1,600 meters above sea level) to No. 1 Campsite: 15 km;
No.1 Campsite (1,940 meters above sea level) to No. 2 Campsite: 8 km;
No. 2 Campsite (2,660 meters above sea level) to No. 3 Campsite: 7.5 km;
No. 3 Campsite (2,980 meters above sea level) to cableway: 4 km;
No. 4 Campsite is 3,400 meters above sea level.
Costs
Admission to Hailuogou: 70 yuan/person; sightseeing bus: 70 yuan/person, which is the only means of transportation allowed in the park; cable car (roundtrip): 160 yuan/person. It takes a full day to visit the glacier park.
Admission to hot springs:
At No. 2 Campsite: 50 yuan/person;
Gonggar Miraculous Fount: 65 yuan/person (free of charge for tourists staying in the Gonggar Miraculous Fount Hotel).
Lodging
Moxi Township is situated at the entrance to Hailuogou. Tourists usually live at the township for one night. There are many hotels in the town.
Gonggar Hotel (three-star)
Tel: (836) 3266666, 3266677
Changzheng Hotel (four-star)
Tel: (836) 3266608, 3266526
Moxi Hotel (two-star)
Tel: (836) 3266188
Hailuo Hotel
Tel: (836) 3266296
Besides, guesthouses with charges between 20-100 yuan/person a night are available.
There are also hotels at No. 1, 2, and 3 campsites. It's better for tourists to choose hotels with hot springs so that they can enjoy them free of charge.
Hotels at No. 1 Campsite:
Jinlaiyue Spring Holiday Inn Hotel (three-star)
Tel: (836) 3266866,3266868
Gonggar Miraculous Fount Hotel (Four-star)
Tel: (836) 3266888 ext 8000
Hotel at No. 2 Campsite:
Glacier Hot Spring Hotel
Tel: (836) 3266170
Hotels at No. 3 Campsite
Jinshan Hotel (three-star)
Tel: (836) 3266438, 3266434 ext 888, 868
Yinshan Grand Hotel (three-star)
Tel: (836) 3266555,3266383
Foods
Chicken cooked with Chinese caterpillar fungus, chicken cooked with bulb of fritillary, pork cooked with tuber of elevated gastrodis, bacon and wild vegetables.
Service hotlines
Administrative Committee: (836) 3266203;
Ticket Office: (836) 3266550
Alarm Telephone: (836) 3266271;
First-aid Center: (836) 3266344, 3266243;
Telephone for Complaints: (836) 3266205;
Moxi Agricultural Bank of China: (836) 3266342
Local specialties
Cherry, loquat, pitch, chestnut, walnut, persimmon, seeds of Chinese prickly ash, black fungus, muskiness, pilose antler, caladium, snow lotus, white mushroom and Moxi bacon.
Matters needing attention
Security should be emphasized for conditions in Hailuogou are much complicated. The elderly and weak are suggested to tour lower mountains only. Precautions should be taken for cold weather, avalanche, mud-rock flow, cracks on ice and oxygen deficiency.
1. Sufficient preparation should be done before touring the glacier park, otherwise it may be dangerous for the tourist;
2. Following your tourist guide when traveling through the glaciers;
3. Bring warm clothes with you because weather in the mountains are changeable;
4. Viewing the glaciers within security lines;
5. Wearing sunglasses so as to protect yourself from the strong light reflected from the ice and snow;
6. Loud cries and fireworks are prohibited in the glacier area;
7. There are many big glaciers in Hailuogou, including the three major ones -- No. 1 Glacier, 14 km; No. 2, 4.8 km; and No. 3, 4.2 km. The lowest point of No.1 Glacier is 3,650 meters above sea level, which is reserved for mountaineers only. Precautions should be taken for stone-dropping on the passage to the glaciers, as the slopes are made of porous soil and cobbles;
8. No littering in the park. Wastes should be taken back to the tourist center.
(China.org.cn by Unisumoon July 23, 2004)