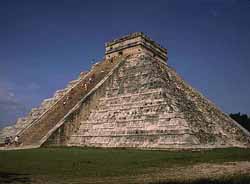 A senior Chinese tourism official announced that the Chinese government had agreed to list Mexico as a tourist destination for Chinese citizens in Beijing on Tuesday.
Gu Zhaoxi, deputy director of the National Tourism Administration, made the announcement at the closing ceremony of the first meeting of the China-Mexico permanent bi-national commission.
Gu said China has submitted to Mexico a draft memorandum of understanding of the plan concerning this issue. "We hope an official agreement can be signed in the near future."
China and Mexico established full diplomatic ties in 1972. Mexico has become China's second largest trade partner in Latin America and China has also become one of Mexico's major trade partners in Asia.
"With increased cooperation as well as information and personnel exchanges, the two counties' tourism industry will surely be boosted," Gu said.
On Monday, China and Mexico officially set up a permanent bi-national commission and held four sub-committee conferences on politics, trade and economy, science and technology, and education and culture. Senior officials from the two sides also formed four working groups to discuss issues of social development, communications, exchanges, agriculture and tourism.
On Tuesday afternoon, the two sides concluded two-day discussions and signed a summary of the first meeting and an agreement on civil aviation transportation at the closing ceremony,
which was presided over by Chinese Foreign Minister Li Zhaoxing and Mexican Foreign Minister Luis Ernesto Derbez Bautista.
Li and Derbez agreed that the meeting produced fruitful results and broad consensus. They said the two sides will give full play to the permanent bi-national commission to instill new vitality into the China-Mexico strategic partnership.
(Xinhua News Agency August 18, 2004)