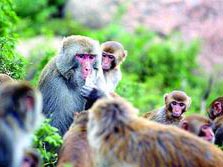 Beijing Zoo was initially named Ten Thousand Animal Garden which was built in 1908, proving that it already has had a history of more than 90 years. It is located in Xicheng District of Beijing City, beside Beijing Exhibition Hall, facing Beijing Astronomical Observatory. The Zoo was originally the imperial manor in the Ming Dynasty (1368 - 1644). Plants were cultivated and animals were raised here during the Qing Dynasty (1644 - 1911). After the liberation, it was reconstructed and was known as the West Suburb Park. And in 1955, the name was changed to Beijing Zoo.
Beijing Zoo mainly exhibits wild and rare animals growing in China, such as the Panda and the Golden Monkey. Also, it boasts many rare animals from all around the world, such as White Bear from the North Pole, Kangaroo from Australia, Zebra from Africa. Moreover, heads of states gave some of the animals.
The buildings in the Zoo cover an area of more than 50,000 square meters, including the monkey hill, the panda hall, the lion and tiger hill, the elephant hall, the see beast hall, and many others. Altogether there are more than 30 large halls. It has a collection of more than 600 types of animal species and more than 7, 000 population of animals.
The Zoo exhibits not only the variety of living places for the animals but also proud of the different rooms, halls, pavilions and luscious trees and plants. It combines the garden arts of the East and West that typically adapts to the environment of the wild animals living here.
Beijing Ocean Hall was opened to the public inside the Zoo in 1999. It is the biggest ocean hall in China. Besides enjoying the sight of all the different species of fish, you are invited to watch the shows performed by the dolphins and the sea lions here in the Hall.
In addition, you can visit the many old buildings built in the Qing Dynasty inside Beijing Zoo.
Opening Time: 07:30-17:00 (Winter) 18:00 (Summer) 17:30 (Spring & Autumn)
Add: No. 137, Xizhimenwai Avenue, Xicheng District, Beijing
Bus Routes: 7,15,19,27,45,332,334,347,380,102,103,105,111,812,808 and T4.
Admission: 15 yuan (Excluding 5 for panda site)
Tel:
010- 68314411
(China.org.cn September 8, 2004)