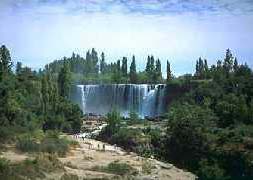 Sino-Chilean tourism will expand when a landmark agreement is sealed later this year, the Chilean ambassador to China Pablo Cabrera told the opening ceremony of the on-going Chilean tourism trade show.
The two countries will sign an agreement to list the South American country as a tourist destination for Chinese travelers during a state visit by President Hu Jintao in November.
"After gaining approval destination status, the number of Chinese tourists to Chile is expected to rise up to five times," said the ambassador.
A Chilean delegation, including 13 tourist agencies and officials from Chilean Tourism Board, arrived in Beijing last Tuesday on a weeklong tourism and trade promotional drive.
Trade shows in Shanghai and Xi'an are also planned.
Chile, occupying a thin landmass on South America's Pacific coast, offers splendid scenery.
Air routes and carriers are being thrashed out by governments and business leaders from China and other South American nations. Chile hopes to become an arrival destination for Chinese travelers embarking on a continental tour.
Revenues from Chile's Asia tourism market has increased markedly during the first six months of this year, figures show -- 18.5 percent higher than that of the same period a year ago.
"We are now discussing the possibility to shorten flying time between the two countries, with some Chinese counterparts, such as Air China, China Eastern Airlines and China Southern Airlines," said Su Zongchang, the Beijing-based general manager of the Chilean airline LAN. LAN is one of Latin America's biggest passenger and cargo carriers.
The stunning beauty and diverse scenery of Chile is among the best in South America. This very long, narrow country includes the mighty Andes mountain range, complete with volcanoes and glacial capped peaks, incredible scenic and remote fjords, coastal beaches, dense ancient forests and powerful rivers.
Adventure travelers will find world-class white water rafting, sea kayaking, mountain biking, horseback riding, trekking, hiking and mountain climbing all within easy reach.
(CNTA.com September 17, 2004)