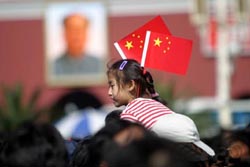 The Seventh Beijing International Tourism Culture Festival will be launched on September 20 to celebrate the National Day holidays, which begin on October 1, and the arrival of the Olympic Games banner.
The festival, with the themes "Holidays -- Jubilation" and "Olympics -- Tourism" will welcome participants from 40 countries and regions, says Xiong Yumei, vice-director of Beijing Tourism Administration.
The festival will feature five special events, she said.
From 9 am to 11 am on September 25, 37 performing troupes from 26 countries and regions and eight Chinese troupes with 2,700 performers will make a parade in front of the new Tower of Yongdingmen Gate.
During the parade, visitors will get a closer look at the Olympic Games banner and several Olympic champions who were born in the city. Two hundred local tap dancers will dance along the streets.
From September 24 to 27, these performing troupes will stage various song and dance performances in places like Chaoyang Park, Beijing Botanic Gardens and Nangong Village.
A grand photo show will be held at the Henderson Center from September 20 to October 7, featuring 800 photos about the Olympics and tourism from 21 cities which have hosted the Olympic Games.
From September 24 to 26, participants from 20 countries and regions which have been granted Approved Destination Status by the Chinese Government will attend a tourism exhibition to promote tourism in their own countries to Chinese visitors.
From September 20 to October 7, various tour festivals and events will be staged in different districts and counties of Beijing.
"We hope that all of these events will display the image of a 'new Beijing' to visitors from home and abroad," said the official.
(China Daily September 18, 2004)