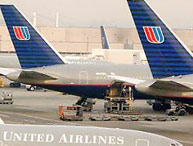 United Airlines will inaugurate its new non-stop daily service from Shanghai to Chicago on November 1 to tap massive market potential.
The dramatic expansion in the US airline's services to China comes hot on the heels of a landmark aviation pact between the two countries' governments.
The launch of the new service means UA will have four air routes to China -- two to Beijing and two to Shanghai, which fly to and from Chicago and San Francisco.
John Tague, UA's executive vice-president of Marketing, Sales and Revenue, expressed the airline's pride at being "at the forefront of this unprecedented expansion in the Sino-US air travel market."
Glenn Tilton, chairman of UAL Corporation and United Airlines, was equally upbeat. He said: "The new service will enable UA to meet the growing demand in China."
Referring to his flight from San Francisco, which was fully booked, Tilton said this indicates the "great" market potential.
UA's new non-stop Beijing to San Francisco route took off in June this year, helping open a new air service between the two cities.
Aviation insiders said UA's recent actions reflect its commitment to further expanding its international business.
And this is important for UA, given that "international services are more profitable than domestic ones," according to Tilton.
He said the airlines aims to strengthen international routes accounting for more than 40 per cent of UA's global capacity by March 2005.
United Airlines will reallocate assets to more profitable routes and reduce its mainline fleet to 455 aircraft, shifting some domestic routes to United Express.
This will reduce the airline's costs "to competitive levels," he said.
Costs leaped as a result of ongoing high fuel costs, intense pricing pressure and continuing over-capacity, he said.
"The aggressive steps we are taking are to ensure that UA remains competitive," Tilton said.
Mark Schwab, the airline's Pacific region vice-president, said China is a very "significant" market in the Asia-Pacific.
China currently accounts for a strategic proportion of the carrier's Asian revenue, taking up about 25 percent of its global revenue.
The airline has been working closely with Air China since last October in a marketing alliance that includes code-share flights to seven key Chinese cities from Beijing, including Chengdu in Sichuan Province, Chongqing, Fuzhou in Fujian Province and Guangzhou in Guangdong Province.
"But one partner is not enough for UA to expand its business in such a huge market. We need more partners in China," said Schwab.
He said UA will seek suitable partners to extend its flight network to more Chinese cities.
As the business expands, the carrier will change its Boeing-777 aircraft to Boeing-747 planes to carry more passengers, said Schwab.
In another development, United Airlines has filed an application with the US Department of Transportation for the authority to launch daily, nonstop service between Guangzhou's Baiyun International Airport and San Francisco International Airport.
"If approved, its new flight to Guangzhou will add great value for passengers, the airline and the airport," said John Martin, director of San Francisco International Airport.
(China Daily October 18, 2004)