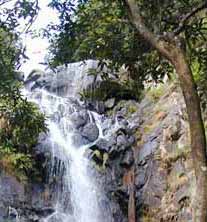 Maluan Mountain is not the most famous mountain in the Shenzhen area, even among the city's long-term residents.
However, it is extremely popular among avid hikers because it's easy, safe, beautiful and varied with clear streams, lush woods, Chinese plum blossoms and one of the area's largest waterfalls.
The mountain's paths aren't surfaced, yet the climb is not strenuous, as the summit is only half the height of Shenzhen's highest peak, Wutong Mountain.
Lan Chou Gu, a veteran member of Shenzhen's largest online outdoor pursuits club, Mofang, once wrote: "It's hard to say how many Shenzheners have fallen in love with hiking when climbing Maluan Mountain, but who, if they love hiking, has not climbed Maluan Mountain."
Expeditions to Maluan Mountain usually start at Diecuihu Reservoir, 15 minutes from Xiaomeisha beach, and end at Dameisha beach.
The summit is accessible from various routes, but the most attractive one is along a stream.
The stream is less than half-a-meter deep, with boulders forming natural steps for hikers. Jumping from one boulder to another is a real test of balance, as some boulders are pointed and far apart from each other. In other places, the boulders are so large and close together that you have to scramble over, squeeze between and slide down them.
In nice weather, falling into the water is not the end of the world, although you have to be careful because your shoes become wet and slippery. However, after heavy rain, the water can run very fast and the rapids can carry you downstream.
Despite the challenges, trekking up the stream is quite refreshing.
Even on the hottest summer days, you will not feel it because much of the stream is under tree cover. The sounds of water splashing add to the tranquility and coolness of the mountain. Looking down, a continuous mountain chain extends in front of you, completely separating you from the city.
When a section of the waterway is too difficult to pass, a nearby mountain trail is a good alternative. Cool, damp, lush and with the sound of rushing water, the trail passes through what seems like a temperate forest.
Maluan Waterfalls is one of the largest in the Shenzhen area, about 16 meters high. There are also some smaller falls. While many leisurely hikers just enjoy watching the thundering waterfalls or bathing in the cool water, rock-climbers practice their skills on the cliffs beside the waterfalls.
The mountain is best known for its plum blossom trees, which bloom in January. The Plum Blossom Pavilion at the summit offers an excellent view of the blue sea and the red and white plum blossoms in January.
If you start your expedition at about 10 AM, you will arrive at the Plum Blossom Pavilion by midday, in time for a relaxing lunch at the small village about 30 minutes walk from the pavilion.
You can buy some farm produce from the villagers and cook at their houses. If you are lucky, you can get a chicken raised by farmers for 50 yuan (US$6). But don't expect to recharge your mobile phones here because most of the village houses have no electricity.
If you want to climb Maluan Mountain, you'd better be quick. The mountain may soon lose part of its natural beauty because a golf course is being built on it.
Travel tips
It's easy to get lost on Maluan Mountain because it has several peaks, so bring a guide on your first visit.
Dameisha beach can be reached by bus No. 103.
It takes about five hours to complete the route from Xiaomeisha beach to Maluan Mountain and back to Dameisha beach. You are advised to take water and food with you.

Click here to see local weather.
Click here to make reservations.


(Shenzhen Daily November 10, 2004)