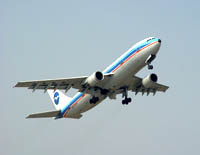 Chinese flights has logged more than five million continuous hours of safety, the longest such streak in the nation's history.
Wang Changshun, deputy head of China Administration of Civil Aviation, announced the record at the 57th Annual International Air Safety Seminar (IASS) 2004 opened Tuesday in Shanghai.
The safety has been going since May 2002, Wang said.
Wang said that between 1994 and 2003, China's air safety conditions improved remarkably, with an average accident occurrence at 0.62 per every one million hours of flights. The ratio, just under the world average of 0.64, has gone down to 0.44 for the last three years.
However, the ratio is still behind that of developed nations, Wang said, adding that in the United States the ratio was 0.30 per million.
China plans to lower the accident occurrence to the level in developed nations in the 2006-2010 period.
In another development, China's civil aviation industry carried 100 million passengers from January to October this year, increasing by 44.9 percent over the year-earlier level and exceeding the 87.59-million-passenger level for the whole of last year, according to Wang.
With a fleet of 1,227 airplanes, China's civil aviation sector had opened 1,198 regular air routes by 2003.
Held from Nov. 16 to 18, the 57th annual IASS was sponsored jointly by Flight Safety Foundation, International Federation of Airworthness and International Air Transport Association.
This is the first time the seminar has been held in China.
(Xinhua News Agency November 18, 2004)