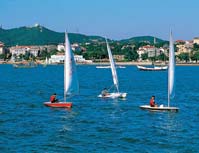 Qingdao's environment, featuring azure sea, white sand, and green trees, is widely admired by people of many other places.
Qingdao is a special city that combines the charm of south China with the generosity of north China. Because it was opened early and was once occupied by Japanese and German invaders, it takes on a look that appears to be more Westernized than many other cities in China.
Lying on the southern bank of the Shandong Peninsula, Qingdao is one of China's most attractive cities, integrating modern cityscapes with old European-styled architectures on the mountain slopes and by the seashore, blue and beautiful sea beaches scattered with red reefs, and 1,132.7-meter-high Mt. Laoshan, the highest mountain along China's coastal line.
German-styled castles, constructed in 1936, once received late Chairman Mao Zedong and Norodom Sihanouk, then prince of Cambodia.
A Denmark-styled Catholic church.
In November 1897, Germany occupied Qingdao by force on the pretext of the Juye litigation over religious disputes. In 1914, the World War I erupted, and in November that year, Japan invaded Qingdao and ousted Germany to put Qingdao under its military colonial reign. People's strong claim for "Reoccupying Qingdao" later ignited the famous May 4 Movement in 1919. In January 1938, Japan once again invaded Qingdao and occupied the city until September 1945.
While the western part of urban Qingdao, namely old urban district, features red-roofed houses, green trees, blue sky, and azure sea, the eastern part, namely new urban district, congregates modern architectures. The old and new districts are pleasantly fused together, making Qingdao an oceanic city imbued with European and Asian customs.
Traveling from west to east along the seashore of Qingdao, one can view picturesque seascapes and find pleasure in four tourist zones in different styles.
Hidden in the beautiful natural landscapes are cultural heritages, which have witnessed the rises and falls of the city and demonstrate the rich connotation of the blending of Eastern and Western cultures.
In addition to the famous tourist sites, such as Lesser Qingdao, Small Fish Hill, Lu Xun Park, Qingdao Aquarium, Qingdao Marine Product Museum, Qingdao Navy Museum, Zhanshan Temple, Catholic churches, Christian churches, Governor's Residence, and various-styled Badaguan Villas, visitors to Qingdao can also indulge themselves into the sea and sand beaches to taste the sea wind, sea interest, sea charm, and romantic colors of the sea.
Hong Kong Road, a high-grade sightseeing boulevard, stretches from east to west amidst the fast-rising modern architectural complex, and along with Donghai Road, Macao Road, the World Chinese Sculpture Garden, May 4th Square, and Music Square, they compose breathtaking views of the coastal city.
Whenever Qingdao is mentioned, the people of Qingdao is a hot topic.
Thanks to the moistening of the gentle and humid sea wind, the people of Qingdao look as delicate as the people of south China.
Men are fair-skinned, strong, and intelligent while maintaining the bold and generous characters of Shandong people. Qingdao is a famous producer of beautiful women.
Girls here are pure-hearted and lively and always display radiant smiles. They like fashionable dress. They are never fed up with nibbling socks.
They are easy-going and self-esteemed. It is said that attendants from Qingdao enjoy special favor with important establishments for foreign reception, such as the Great Hall of People in Beijing.
Many Qingdao citizens share the love for beer, especially Tsingtao Beer. Wherever they go, they order Tsingtao Beer. In the places where Tsingtao Beer is not available, they drink beer of other brands, but complaining, "It does not taste as good as Tsingtao Beer."
It is common to see people drink beer with bottles, straw pipes, steins, and even bowls, but containing beer with plastic bags should be a special habit of Qingdao citizens and is considered one of the eight strangenesses of Qingdao.
In summer, after getting off from office, people tend to find a nearby store, turn on the tap of a beer barrel, use a plastic bag to contain liters of beer, and take it home.
Some people spear a hole on the bag with a finger at a place above the upper line of the beer and use another hand to support the bottom of the bag, so that beer flows out from the hole, and one can drink the beer with his face turned upward. This also show the forthright character of Qingdao people.
August leads the citizens' enthusiasm and joy for beer to the utmost. Thousands of people get together to enjoy the delight brought by beer.
Whether being Qingdao citizens or visitors from other places of China or from foreign countries, people see no bound in sharing their love and feeling of beer.
This is the most appealing scene of the annual event, Qingdao International Beer Festival. Starting from 1991, the festival has attracted numerous tourists from home and abroad.
As the host city of the 29th Olympic Sailing Regatta in 2008, Qingdao (Tsingtao), Shandong Province, has already embarked on the planning and preparation works.
Through further improving the local ecological environment and taking advantage of the city's characteristics that the mountains, the city, and the sea come into a wonderful blend and man and nature exist in harmony, Qingdao aims at establishing an internationally advanced base for sea sports and constructing itself into a "Capital of Sailing."
From July through December in 2008, Qingdao will host the 29th Olympic Sailing Regatta and the Paralympic Sailing Competition.
(China Pictorial February 3, 2005)