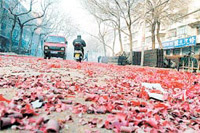 Firecracker booms rocked urban Beijing with bright flashes during this year's Chinese Lunar New Year holiday, challenging the city's 12-year-old ban on the festival but often dangerous explosives.
Even within the second ringroad -- the innermost areas of Beijing's city proper, cracks are constantly heard created by unidentified passers-by, though posters reading "firecrackers forbidden" are seen in nearly every street.
Most Beijingers seem quite used to such open defiance which is seen nearly every year since firecrackers were first banned in 1993.
This year, however, the city put a special office in charge of the firecracker ban and expanded the banned areas beyond the fifth ring road into some densely inhabited areas on the outskirts.
Prior to the holiday, the office sent a short message to cell phone subscribers to remind them of the firecracker ban.
On Tuesday, the Chinese New Year's Eve, Beijing police sent 130,000 policemen, market regulators and volunteers to patrol the urban streets, but firecrackers were still constantly heard, particularly on the fourth and fifth ring roads.
"We stepped up publicity work weeks before the holiday and it worked to some extent," said Vice Mayor Ji Lin. But still, he admitted some areas were "out of control".
Some residents had bought firecrackers from rural markets beforehand and boldly lit them when they heard others were doing the same.
Booms of firecrackers mark the passing of the old year, or guonian as the Chinese call it, said Mr. Meng, a middle-aged man who is firmly against the ban. "That's the tradition handed down from generation to generation," he said.
Meng confessed he led his family to light firecrackers in his downtown community on the eve of the Chinese New Year because he "used to do the same every year as a child".
Even a lawyer set off firecrackers in his downtown community in Dongzhimen, where the explosive is strictly banned.
"Childhood memories still cling to me and I cannot help lighting firecrackers to celebrate the family festival and particularly to make my son happy," said Wang Xiaohui, 37, who has been an attorney in Beijing for 15 years.
"The Chinese New Year in the traditional sense is a carnival," said Zheng Yimin, vice chairman of China Federation of Literary and Art Circles. "With firecrackers banned, the festival is far less joyous."
With increasing popularity of western holidays in China, the country's biggest family-reunion festival is gradually out of favor among urban Chinese, said Zheng.
Though Beijing's lawmakers deliberated the residents' call for removal of the firecracker ban during their annual session in 2004,the local legislature eventually upheld the ban on safety grounds.
This year alone, the firecracker ban office told Xinhua on Saturday that 53 Beijingers were injured by firecrackers on New Year's Eve on Tuesday as they set off firecrackers.
Two leading downtown hospitals, Tongren and Jishuitan, received19 people injured by firecrackers during the most festive hours between 6:00 PM Tuesday and 1:00 AM Wednesday. Only two of them were hurt in the suburbs where firecrackers are allowed. The number of injured is more or less the same as last year.
But the good news is the city's firemen put out 99 fires set by firecrackers on New Year's Eve, down 36 percent from last year, said a spokesman from the firecracker ban office.
"It is dangerous to light firecrackers but we cannot ban everything that is dangerous -- we cannot ban cars and buses to avoid traffic accidents for example," said Zhang Zhongli, an attorney with Beijing Jiacheng Law Firm.
And his view is echoed by many Chinese.
Responding to residents' calls, 105 Chinese cities have removed the firecracker ban, including the largest city Shanghai.
Some lawmakers in Beijing also consider easing the ban in certain urban areas and Beijingers are having their fingers crossed for more personalized amendments to the regional law.
But for the Beijing government, how to balance between the nation's love for traditions and arm of the law remains a hard nut to crack.
(Xinhua News Agency February 13, 2005)