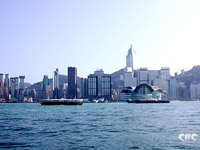 From March 1, Chongqing and Tianjin will join the Individual Travel Scheme (ITS), that allows mainlanders to visit Hong Kong and Macao without being part of a tour group, the State Council has announced.
This will bring the number of cities under ITS to 33, and could raise the percentage of visitors from Chongqing and Tianjin to Macao by 30.
To facilitate the flow of visitors, the once-stop direct flight between the two cities and the SAR would soon be restored.
ITS was launched in July, 2003, by the central government to help Hong Kong's and Macao's economic recovery. It first covered Guangdong Province, and was then extended to Beijing, Shanghai and cities in Fujian, Zhejiang, and Jiangsu provinces.
By the end of this January, the number of ITS visitors to Macao had reached 4.5 million.
Lau Ngar Wong, chairman of Macao Travel Agency Association, welcomed the further relaxation of the scheme.
Chongqing and Tianjin are advanced cities in terms of economic development, and together they have a population of over 42 million. That amounts to half of Guangdong's population; and more than the combined population of Beijing and Shanghai.
It is expected that the expansion of ITS would boost Macao's economy. For, the positive aspect wouldn't be confined to the tourism sector. Instead, it may act as a catalyst to give rise to a string of developments. For example, more mainland entrepreneurs could visit Macao under ITS for business opportunities.
Many newly built tourist attractions are scheduled to be completed soon, and Macao is actively upgrading its exhibition industry.
With the improvement of infrastructural facilities, the number of business travelers is expected to grow steadily.

(Xinhua News Agency February 20, 2005)