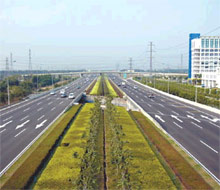 Beijing authorities began strict inspections of automobile owners this month to check that they have paid their road maintenance fees.
The new vigilance came after the Beijing Road Administration Bureau (BRAB) confirmed at the end of February that fuel tax would not be introduced in 2005.
"Electronic devices on more than 30 key roads in the city are being used to enhance automobile checks," said Li Gongke, vice director of the BRAB's Road Maintenance Inspection Department.
The bureau said on February 28 that both the Ministry of Finance and the State Taxation Administration had confirmed that fuel tax would not replace the road maintenance fee as had been speculated for this year.

Experts analyzing the reform proposals said the effects of such a move would be hard to predict, partly due to unstable world crude oil prices since 2003.
Ministry of Communications officials confirmed that plans for the new tax were on hold.
In the meantime, Beijing automobile owners are being warned that penalties on short term unpaid fees have increased to one percent of the amount due for each day they are in arrears.
The penalty for fees unpaid for three months or more will be between 30 and 100 percent of the amount due, depending on the circumstances.
The government started to consider replacing road maintenance fees, automobile purchase and consumption taxes with fuel tax years ago.
(China.org.cn by Liu Yuming, March 6, 2005)