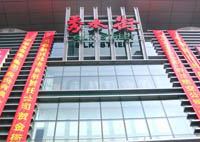 The new Xiushui Market, a modern five-story building that stands just next to the former grounds of the Silk Street clothes market, just opened to the public recently, after its debut had been postponed several times from its original date of early February.
Surrounded by foreign embassies and luxury hotels, the market is described as the third best-known tourist destination in Beijing after the Palace Museum and the Great Wall. Beijing municipal government has vowed to crack down on fake name brand garments sold here.
The imposing structure has been decked out in crimson and navy blue to give the building a strong traditional Chinese flavor.
With about 1,500 stalls, the market is much bigger than the former street. There are bags, cases, shoes and hats in the basement; various clothes, many of which are international brands, on the first and second floors; silk goods and Chinese paintings on the third floor, and pearls and Chinese traditional crafts on the fourth floor.
All stalls in the market are rented out and many vendors are in line to secure a place in the new shopping center. The monthly rent for a stall varies from 4,000 yuan to 40,000 yuan for a coveted first floor position.
Though the shopping center's management group promises to weed out counterfeit or poor quality goods in the market, and there are fewer imitation brand name goods sold at Xiushui Market than there used to be along Silk Street, there is still no way to completely keep knock-offs out of the market.
Inspectors supposedly already spotted fake goods of big international brands on the market's first day.
The opening week has attracted many customers to take look inside. Vendors report that many more Chinese shoppers have grazed the aisles, rather than foreign guests.
"But business is not very good," some vendors said. "People crowd on the first floor, while on other floors there are few customers."
Some foreigner also said that they were a little disappointed to find that the multi-story indoor market no longer has the special attractions of the former roadside market.
(Beijing Weekend April 6, 2005)