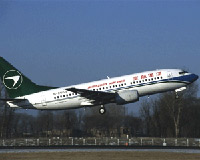 South China's Shenzhen Airlines is promoting its business by providing large scale discounts over the traditional Chinese holidays next month.
Return tickets to Shenzhen for the celebrations are free for children and discounted by 40 percent for adults. The result is some tickets valued at over one thousand of yuan may be had for hundreds.
An official with Shenzhen Airlines says the tickets would only be available for travel at certain times. Flights for infants under 2 years old will be free, while accompanied children aged under 12 can fly at quarter price.
(CRI December 30, 2003)