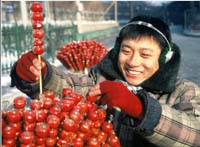 Tanghulu, or crystalline sugar-coated haws on a stick, do not require much promotion among young sweet-lovers in Beijing, despite the increasing competition from new generation snack foods like potato chips, popcorn and chocolate.
About 20 centimeters long, bright red in color with a perfect sweet-and-sour taste, tanghulu are a much-loved traditional confection in the capital city.
Every year as the weather cools down, tanghulu sales start heating up on almost every street corner in the city. Mobile food vendors carry large straw or plastic poles with dozens of tanghulu stuck in them as they make their rounds from one neighborhood to another.
Each vendor has his or her own distinct, rhythmic call. Many of the food stalls in parks, supermarkets or along the roadside add tanghulu to their menus. Buyers can watch the stall owners making the snack on the spot.
"Tanghulu has been my favorite sweet since I was a kid,'' said Ma Long, a 27-year-old native Beijinger who works for a foreign company. "Childhood memories of tanghulu still linger in my mind today.''
Back in those days, most children couldn't afford expensive treats and tanghulu, which cost about one jiao (1 US cent) each, were always the most popular, Ma said.
"Every afternoon on my way home from school, I liked to buy a tanghulu,'' Ma recalled.
Although all kinds of snacks are available nowadays, made by either local or overseas manufacturers, Ma remains a staunch tanghulu fan.
"Nothing is more satisfying than eating a tasty tanghulu on a cold day,'' Ma said. Ma's passion for tanghulu is shared by many young adults including 25-year-old Wang Yan, a primary school teacher in Beijing.
"When I was young, my mother once warned me if I kept eating so many tanghulu, I would lose all of my teeth,'' Wang recalled.
But the mother's words did not dampen the young girl's love of the snack. Every winter, she continued to spend most of her pocket money for tanghulu.
"Even now I can't resist tanghulu whenever I see them in supermarkets or at streetside snack stands,'' said Wang.
Though tanghulu are also popular in many other cities in North and Northeast China, they have become sort of unofficial, non-dancing logo of Beijing.
Auspicious symbol
For many Beijing people, tanghulu is not only a tasty treat, but also an auspicious symbol and highlight of the traditional temple fairs held during the Lunar New Year holidays in Beijing.
Tanghulu sold at the Changdian Temple Fair in Xuanwu District are regarded as the most auspicious ones by many Beijingers.
Dating back to the Ming Dynasty (1368-1644), the temple fair at Changdian was resumed in 2001, after a 37-year halt, and is now one of the largest such fairs in the capital city.
Many of the tanghulu sold at the fair are about one meter long and decorated with colorful flags on the top.
"A visit to the temple fair is not complete without buying one of these huge tanghulu,'' said Ma.
Generally most buyers don't eat them.
They take them home as a kind of auspicious token, which they believe will bring them good luck, fortune and prosperity in the coming new year.
Long history
Legend has it that tanghulu date back to the Song Dynasty (960-1279). Once an imperial concubine of Emperor Guangzong (1147-1200) fell seriously sick and the court physicians failed to find an effective treatment. The worried emperor knitted his brows in despair every day.
Then a doctor from outside the court volunteered to try and cure the concubine's illness. After examining the patient thoroughly, the doctor wrote out a simple prescription: Simmer haws in sugar and water, and eat five to 10 of them before each meal.
The doctor said the concubine would get well in less than two weeks if she followed the prescription.
Neither the emperor nor the court physician believed the doctor's words. But unexpectedly, the concubine got better and better and eventually recovered.
The story of the miraculous cure and the making of the healthy food quickly spread among the common people. Some food vendors began putting haws on bamboo skewers and selling them as snacks, and after a bap tism in hot sugar syrup, they became the tanghulu we know.
It was said that the first tanghulu had only two haws: a small one on top and a big one on the bottom, which made the treat look like a hulu , or bottle gourd.
This is why they are called tanghulu today, which means "candy bottle gourd'' in Chinese.
And the name has stuck despite the fact that most tanghulu include four to eight haws and don't look the least bit like a candy gourd today.
Back in the early 1900s, the most-sought after tanghulu were sold in food stores in the Dong'an Market in downtown Beijing. Most of these stores were not very large, but enjoyed a booming business every day.
In addition to haws, a dazzling variety of ingredients such as kumquats, yam, water chestnuts and Chinese dates are used to make tanghulu. But they are all made in pretty much the same way.
Take haws, for example. Wash the haws, take out the seeds, put the haws together on a bamboo skewer, then dip it into boiling syrup and take it out and allow it to cool to harden the syrup.
Ingredients like yams and water chestnuts have to be steamed before being made into tanghulu.
The most attractive varieties are sugar-coated haws with fillings. Each haw is cut open, filled with sweet bean paste, and then trimmed with the edible kernels of melon seeds.
Many tanghulu-makers stress that heat control is the key element in making good tanghulu. If the temperature of the syrup is too low, the tanghulu will be sticky; if the syrup is over-heated, candied coating of the tanghulu will look dark and taste bitter.
Among the many tanghulu makers, only a few have established fame or secured trademarks for their brands.
One famous tanghulu-maker in old Beijing was Xinyuanzhai, one of the oldest shops in the city that made and sold traditional snack food.
Built during the Qing Dynasty (1644-1911), the store was particularly well-known for its special tanghulu product called tangdun.
Tangdun were made with only one large haw,although they were prepared in almost the same way as regular tanghulu. They were juicy and crispy and had a perfect combination of sweetness and sourness, and they were very popular up to the mid-1930s.
The golden days of both Dong'an Market and Xinyuanzhai have gone with the changing times. Few people remember Xinyuanzhai's tangdun, while Dong'an Market has been replaced by the modern shopping mall, Sun Dong An Plaza, in 1998.
Surviving tradition
Many experts argue that the market still has an insatiable appetite for traditional snack foods like tanghulu and that the business still has potential for further growth.
Over the past few years, some tanghulu manufacturers from other provinces have begun to step into the market in Beijing. And they have come in with their own brand names, such as Gaolaotai, from northeast China's Liaoning Province.
And Beijing manufacturers are feeling the heat of local competition.
Rising incomes and changes in lifestyle have created new demands that traditional snack foods do not fulfill, said Lu Zhonghua, manager of the Beijing-based Tanghuluwa Food Plant.
"For a long time, the business relied mostly on traditional techniques which had been passed on for generations,'' Lu said. "With backward technology and poor management, we had trouble keeping our own tanghulu fresh and selling well.''
Now modern technology and modern management are becoming essential elements if one wishes to survive, Lu added.
Established in 2000, the company now operates over 20 outlets in the city. Most of them are located in large supermarkets and shopping malls. In addition to tanghulu freshly made on site, these outlets also offer packaged products, which have a longer shelf life.
"Packaged tanghulu are welcomed by customers who like to take them home to share with their families,'' Lu explained.
Like Tanghuluwa Food Plant, many other snack stores are looking for ways to increase sales.
"Eating trends are changing and we have to display new products to adapt to market trends,'' said Zhang Mei, who works in a tanghulu store in Sun Dong An Plaza. Every year, the snack bar presents new varieties with bananas, strawberries, cherries and tomatoes.
"Though the conventional types are still our best sellers, people are also interested to try new products,'' said Zhang.
(China Daily January 10, 2004)