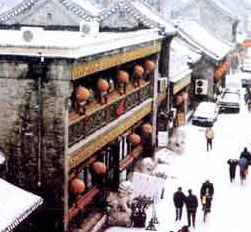 Situated on Liulichang, Beijing's antique street is the architecturally important Songtangzhai Folk Carving Museum. Privately owned by manager Li Songtang's family, this gallery is a two-story building from the Qing Dynasty (1644-1911) and is the best-preserved architecture in the Liulichang area.
The uniquely cohesive exhibition hall and collection, including the stone stairs, gate screen and ceilings, are all part of Li's functional, as well as beautiful collection,.
The museum's Jiangxi-style stone-carved gate tower dating from the Ming Dynasty, Qing Beijing-style wood-carved tower gate and Shanxi-style brick-carved gate tower, are all considered to be among the most famous carved art of Chinese history. Because Li collects from around the country, his gate towers represent architectural styles of many Chinese regions.
Cultural and historical traditions and folklore is omnipresent throughout the gallery. The Yuan Dynasty (1271-1368) stone block door is carved with pictures of the Hu people -- Mongolians who ruled China at that time, feeding and training the mythical Qilin, Chinese folklore beast. Images clearly indicate that the Mongolians were the ruling class of the time. Another stone carving in the museum depicts a military and civil officer presenting an official hat to their master in recognition of his promotion. Another item, a Qing Dynasty wood carving of the River God, was used as a sacrificial object when praying for a good year.
"The Emperor Strolling About," a stone-carved roof beam, is the most precious piece in the museum. Some 60 figures are carved in the stone, including imperial officers, drummers, guardians, animals and plant designs. It is said that the craftsmen spent at least three years creating these carved images.
As Li's intention is to spread knowledge of traditional Chinese architectural art to his visitors, there is no fixed ticket price for the museum. Donations are accepted.
Add: No. 14, East Liulichang Road
Postcode:100050
Tel: 8610-83164663
Exhibition Hours: 9:00 - 18:00







(China Today February 11, 2004)