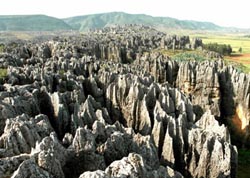 Eight Chinese scenic attractions have become the first group of UNESCO-designated world geological parks.
It announced its list of World Geological Parks Friday in Paris. Awaiting the UNESCO panel final decision were eight Chinese and twenty European entries. The designated sites range from volcanic lakes to karst landscapes.
The eight Chinese scenic spots are Mt. Huangshan in Anhui Province, Mt. Lushan in Jiangxi Province, Mt. Yuntai in Henan Province, the Stone Forest in Yunnan Province, Mt. Danxia in Guangdong Province, Zhangjiajie in Hunan Province, Wudalianchi (five adjacent lakes) in Helongjiang Province and Mt. Songshan in Henan Province. They scattered across the country from north to south, contain some of the nation's best preserved geological features.
(Xinhua News Agency February 15, 2004)
.