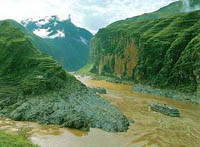 The Three Gorges on the Yangtze River has become the largest geological park in China with an area of 25,000 square kilometers.
The park, added to the list of national geological parks last month, covers both banks of the mainstream of the Three Gorges from Fengjie County, Chongqing Municipality, to Yichang City, Hubei Province.
The region was accepted on the list because of its rich geological phenomena, said Yan Daoping, a researcher at Yichang Geological and Mineral Research Institute under the Ministry of Land and Resources.
Yan said the region boasted southern China's oldest metamorphic rock base, formed 3.2 billion years ago, the world's oldest glacier sediment dating back 700 million years, and a complete stratum layer from the Proterozoic Era.
It also has several thousand varieties of animal and plant fossils and rich phenomena recording geological disasters, and the evolution of rivers and karst.
"It's uncommon in China, even in the world, to have so complete and rich data in one place, like the Three Gorges," said Yan.
China has 85 national geological parks.
(Xinhua News Agency March 8, 2004)