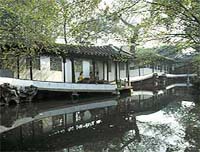 Ticket prices that are expected to as much as double at the gardens in Suzhou, East China's Jiangsu Province -- a world cultural heritage site, are arousing heated debate.
The prices, officials say, will likely be greatly increased before the upcoming World Heritage Conference set for the end of this June.
According to an official working in the Suzhou Garden Bureau, who declined to give his name, the readjusted ticket prices will be announced sometime between May and June 30.
"All of the nine Suzhou gardens on the list of World Cultural Heritage will increase their ticket prices by a big margin," he said, "For example, the ticket of the Humble Administrator's Garden, the most famous one, will probably be raised from 30 yuan (US$3.6) to 60 yuan (US$7.2)," the official said.
Entrance prices of other gardens and parks will also be comparatively raised, he added.
Former preferential measures for senior citizens will be kept in place as before. Those over 60 get in at half-price with those over 70 are admitted free.
A local price bureau official surnamed Qiu said that such a new pricing plan exists but no final decisions have been made.
And he emphasized that for those gardens which do not have many visitors, the ticket prices will remain the same or readjusted in less dramatic fashion.
Some experts and local government officials think the rise in ticket prices will better protect the gardens.
According to Ge Jianxiong, professor and director of the History and Geography Center at Fudan University in Shanghai, stiff ticket prices can limit the visitors and therefore protect the precious gardens from being destroyed by too much traffic.
"Besides, there is not enough financing from the State to protect the historical sites," he said. "The income from increased ticket prices is an important outlay for maintenance of the gardens," he added.
Xu Wentao, head of Suzhou Garden Bureau agrees with Ge.
"All the gardens in Suzhou are assuming sole responsibility for their profit or losses, and there is almost no financial support from the local government," he said. "There is great economic pressure facing us now."
However, many citizens feel upset about the news.
"We are having fewer and fewer chances to visit these beautiful gardens," said Wu Jia, a 26-year-old Suzhou resident.
According to Wu, each local resident got four or five free garden tickets every year from the government in the past, but three or four years ago the policy was cancelled.
"If the ticket prices of Suzhou gardens go up, we will not visit these historical sites in our hometown unless accompanying friends from other places," Wu said.
Sun Yan, mother of a 4-year-old girl likes to take her daughter to the gardens often to instill a love of nature. "Because of the high ticket prices, I may not bring my daughter there as often as I did before."
"Maybe the government should hold some activities to listen to the citizens' opinions," she said.
Most people who want to travel to Suzhou from other cities say that no matter how expensive the tickets are, they will buy them.
"If I make a plan to visit the gardens, I will buy the tickets without hesitation. After all, I will not have many chances to enter those beautiful gardens in my lifetime," said Yao Xin, a Shanghai resident who has never been to Suzhou before.
Some people working in travel agencies suggest that the Suzhou gardens can sell different-priced tickets according to varied times.
"High-price tickets for hot hours and peak seasons is one idea, which can provide different choices for travellers," said Yan Kelei who works at a private travel agency in Nanjing, capital of East China's
Jiangsu Province.
There are many Chinese classical gardens in Suzhou, with ticket prices varying from 5 yuan (US$0.6) to 30 yuan (US$3.6).
The ticket price of the Humble Administrator's was changed from 20 yuan (US$2.4) to 25 yuan (US$3) in 2001, and changed to 30 yuan (US$3.6) in 2003.
Statistics show that every year there are about 1.5 million visitors to that garden, most of whom are old people and travelers from other places in the country.
Compared with other World heritage sites in the country, the ticket prices of Suzhou gardens are on the low side.
For example, the ticket of Emei Mountain in Southwest China's Sichuan Province costs 120 yuan (US$14.5) and that of Lushan Mountain in East China's Jiangxi Province costs 130 yuan (US$15.7), while the total ticket price of seven Suzhou gardens is only 98 yuan (US$11.8).
(China Daily March 25, 2004)