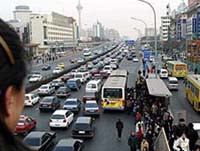 Axel Chan, 31, works for a multinational company with annual income of US$60,000 and lives in a seven-room house in a well-developed community in western Beijing.
He seems to have no worries - except one thing. He has to get up before 5:30 a.m. everyday and drives two hours to his office in the east of the city. The journey repeats when he gets back home in the evening.
"I spend four hours on the road everyday, twice of that three years ago. I just cannot stand it."
Chan's anger is probably felt by most of the 14 million dwellers of Beijing, a city increasingly troubled by an unprecedented traffic jam.
Statistics show that from 1994 to 2003, the number of jammed highway sections have risen from 36 to 87 while the average automobile speed in the central city in rush hours has slowed from 45 km/h to 12 km/h.
"With two million cars, Beijing needs to update its current traffic system to the Intelligent Transportation System (ITS)," said Chenyu, professor from the Beijing-based People's University of China. Using computers to guide cars by controlling signals, ITS is widely considered an effective measure to raise road efficiency.
Public transportation development, especially the metro system, is also strongly advised. "While accounting for over 70 percent of public transport systems in Paris, Tokyo, London and Soul, the metro system only accounts for 15 percent of that in Beijing. There is broad room for further development," said Qian Lixin, a research fellow with China Railway Science Institute.
However, some insist that technological solutions alone cannot rule out the problem which stems from Beijing's defective urban planning.
The current structure, expanded around the old one several times after the founding of the People's Republic of China in 1949, looks like six concentric circles connected by expressways.
"Functional areas such as the government and commercial districts are concentrated within the central city. Millions of commuters travel in and out everyday, plunging the whole city into a traffic jam," said Wu Liangyong, member of both the Chinese Academy of Science (CAS) and the Chinese Academy of Engineering.
Wu suggested building several big satellite towns around the central part which can function independently but are connected with each other. "That will distribute population and thus lower the need for transportation. In that case the current infrastructure will be enough."
"The critical thing is to avoid those towns becoming mere residence communities. They should be able to offer jobs, or else people will still crowd into the traditional center to feed themselves," said Wu.
According to a 2003 report by the CAS, China's urbanization rate, standing at 30 percent in 2003, will reach 75 percent in 2050. In this context, if Beijing finds a way out from its own traffic jam, it will probably find the way out for the whole country, filled with emerging mega-cities, from a traffic nightmare in 50 years.
(Xinhua News Agency May 20, 2004)