Lisa Chen has bought 24 little white "floating" candles for her home dinner party with close friends this Saturday. They plan to switch off the lights at 8:30pm after dinner, light the candles and tell stories.
Chen's lights-off party will be one of perhaps millions around the world as part of the third global "Earth Hour" at 8:30pm local time around the world.
At the same time, the lights will go off in the Oriental Pearl TV Tower, in many buildings in Lujiazui and throughout the city.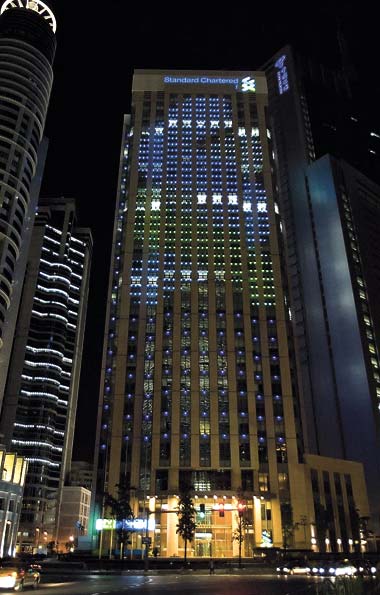 The 28-story Standard Chartered Tower in Pudong, the bank's headquarters, will go dark on Earth Hour. [Shanghai Daily] 
In Shanghai, lights-out is more of a symbol than a saving, since electricity is supplied whether it's used or not - it can't be stored. And electricity for lighting is a small percentage of electricity used.
Earth Hour is an annual event held on the last Saturday in March to raise awareness of the urgent need to combat global warming.
Organizers urge households, businesses and governments to turn off lights and non-essential electricity.
Shanghai Power Co supports the lights-out symbolism, but warns that turning big appliances off and on at the same time can disrupt the power supply; the power may not meet the surge in demand.
Power supply in China is based on average usage and the power will be sent regardless of whether lights are off. The electricity cannot be stored and saved.
So, it's a great symbol.
Worldwide, about three quarters of the electricity is generated by burning fossil fuels that emit carbon, pollute the air and contribute greatly to climate change.
Around 78 percent of China's energy is generated by burning fossil fuels.
Earth Hour was started by the World Wildlife Fund Australia (WWF) in 2007 and went global in 2008. This one will be the biggest yet.
Organizers cast this as a global election: Switching your lights off is a vote for the Earth, leaving them on is a vote for global warming.
WWF aims for a target of 1 billion votes across more than 1,000 cities, and the results of the balloting will be presented to world leaders at the Global Climate Change Conference in Copenhagen 2009.
This meeting will shape government policies to fight global warming and replace the Kyoto Protocol that expires in 2012.
Chen, a 25-year-old accountant, decided to join Earth Hour when she saw a poster on a bus.
She did research on the Internet, passed word to her friends through e-mail and invited a few to her lights-off party.
"Sure, I know that one hour of lights off won't save much energy, but at least I can show my stand in the battle against global warming," says Chen.
Earth Hour targets have already been exceeded.
By March 19, 80 countries and regions, 1,760 cities, towns or municipalities, 5,259 organizations, 7,382 schools, 18,160 businesses and countless individuals have signed on to the Earth Hour Website to pledge their support.
Numbers are going up.
"Earth Hour is an opportunity for the global community to speak in one voice on the issue of climate change, while at the same time coming together in celebration of the one thing every single person on the planet has in common - the planet," says Andy Ridley, executive director of Earth Hour.
Hong Kong and Baoding City in Hebei Province have officially signed on in China, and nationwide countless individuals, business, organizations and communities have promised to vote by turning off their lights.
Standard Chartered Bank (China) has directed 54 branches in 17 cities to turn off their lights. The bank is passing the word to staff, customers, stakeholders and others through its Website, eCards, e-mails and newsletters.
A prize will be awarded to the employee with the most creative and fun lights-out party.
The 28-story Standard Chartered Tower in Pudong, the bank's headquarters, will go dark on Earth Hour.
CEO Katherine Tsang says the bank wants to help raise awareness about shifting to a low-carbon economy.
Other dazzling structures of the Shanghai skyline will go dark, including Super Brand Mall, Shanghai Times Square and the Ascott Pudong hotel.