Thousands of fishing boats in southern China have been recalled to port as meteorologists on Tuesday warned typhoon Hagupit is gathering strength as it neared coastal regions.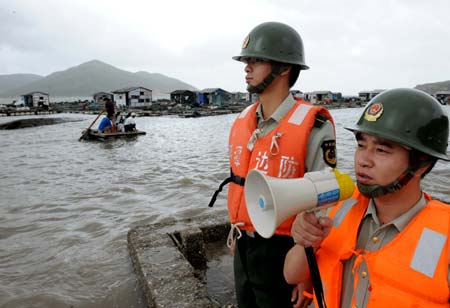 Policemen remind local fishermen to keep a lookout for the typhoon Hagupit in Pingtan County, southeast China's Fujian Province, Sept. 23, 2008. Fujian meteorological station issued a yellow alarm for typhoon Hagupit early Tuesday, warning the central and southern coastal areas of Fujian against the outer rim of Hagupit.[Xinhua Photo]
The meteorological station in Fujian warned the typhoon's core was 520 km southeast of Zhuhai City in Guangdong as of 6 a.m. Tuesday, packing winds of strong hurricane force at 180 km per hour in the center.
Hagupit, the 14th typhoon to affect China this year, became a strong typhoon on Monday afternoon.
Moving at 20 to 25 km per hour, the typhoon is forecast to come ashore somewhere between Xuwen and Taishan, in Guangdong Province, on Wednesday morning, said the weather stations.
The coastal city of Xiamen City in Fujian Province was affected by strong gusts on Tuesday morning, bringing an end to a lingering hot spell.
The Fujian provincial flood-control headquarters said on Tuesday that all 5,979 Fujian-registered fishing vessels working in shallow areas of the Taiwan Straits had been recalled to harbors or safe areas. The ports of Zhangzhou, Xiamen and Quanzhou had been ordered to stop sea traffic.
Local governments in Guangdong and Fujian on Monday ordered all ships to seek harbor and fishermen stay ashore.
Weather stations warned that Hagupit could move inland in Guangdong, causing geological hazards and heavy agricultural losses.
Hagupit would be the second typhoon in a week to affect Taiwan, Fujian and Guangdong, after typhoon Sinlaku lashed the region last Tuesday.
Dark clouds is seen over the sky in Fuzhou, capital of southeast China's Fujian Province, Sept. 23, 2008. Fujian meteorological station issued a yellow signal for typhoon Hagupit early Tuesday, warning the central and southern coastal areas of Fujian against the outer rim of Hagupit.[Xinhua Photo]