China has joined a worldwide surveillance against a hitherto unknown swine flu that has killed at least 81 people in Mexico and threatens to turn into a global pandemic.
The General Administration of Quality Supervision, Inspection and Quarantine has asked people entering China from the virus-hit countries to report flu-like symptoms to the authorities. In an emergency notice issued on Saturday night, the country's top quality watchdog ordered the Customs to check passengers' temperature, too.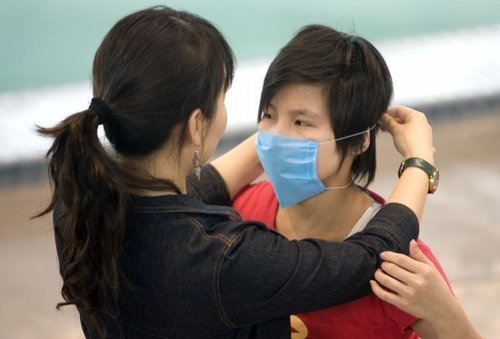 Athletes of Chinese diving team who are attending the Diving World Series of the International Federation of Swimming (FINA), held in the Olympic Pool of Mexico City, are told to wear masks as swine flu spreads round globe. 
A Beijing airport official surnamed Li said Customs officers are on a high alert.
"Three temperature detectors are in operation. We're ready with protection garments and equipment, too. Passengers flying in from Mexico and other swine flu-hit countries are being monitored closely," he said.
The Ministry of Health, however, said yesterday there was no evidence to suggest that a person would contract the disease by eating pork.
Hong Kong, too, has raised its alert level against the flu to "serious". Secretary for Food & Health York Chow urged people to avoid visiting places from where swine flu cases have been reported, and said the virus would be added to Hong Kong's list of notifiable diseases.
The deadly A/H1N1 strain of swine flu, a combination of several swine, bird and human viruses, has been contracted by more than 1,300 people in Mexico, and most of the 81 people killed were aged between 25 and 45.
The virus, identified on Friday, has also infected 19 people in the US and possibly 10 in New Zealand. The US Center for Disease Control and Prevention said the contagious virus is spreading from human to human, raising fears of a global pandemic.
In Mexico, many people have taken to wearing masks, and health workers are on the lookout for people with flu symptoms.
An official in the Chinese embassy in Mexico, however, said yesterday that no overseas Chinese had contracted the virus in that country. The embassy has set up a 24-hour hotline to help overseas Chinese, the official surnamed Xu said.
Though no infection has been reported in China, the Ministry of Health has organized experts to study the virus and promised to monitor the situation more closely.
"We will intensify communication with the World Health Organization and the US and Mexican governments to exchange news about the latest developments," it said on its website on Saturday.
China imports thousands of tons of pork from the European Union and the US - in fact it imported 10,500 tons in January - but it is not known whether Mexico is among the supplier countries.
Despite experiencing the horrors of SARS, which killed 800 people in 2003, and the fear that the swine flu could spread fast, Chinese people in general have maintained calm.
"I've heard about the swine flu but I won't stop eating pork because I believe the quality watchdog will ensure our safety," Liang Zhihong, an auditor with accounting firm KPMG, said in Beijing yesterday.
Some people like Cai Yiran, a 41-year-old policewoman, said they would stop eating pork only if an infection is reported in China.
US scientists have said that existing vaccines cannot be used as preventive medicines against the flu.
Wang Jing, of the Chinese Academy of Inspection and Quarantine, however, said people could prevent the disease from spreading if they washed their hands properly after attending to every chore, avoided contact with live pigs and maintained proper ventilation at home and workplace.