By Wang Wei
China.org.cn staff reporter in Sichuan

Six young pandas set out on April 29 from the Bifengxia panda base in Sichuan Province on a journey to Beijing Zoo, where they will be one of the main attractions during China's National Day celebrations in October.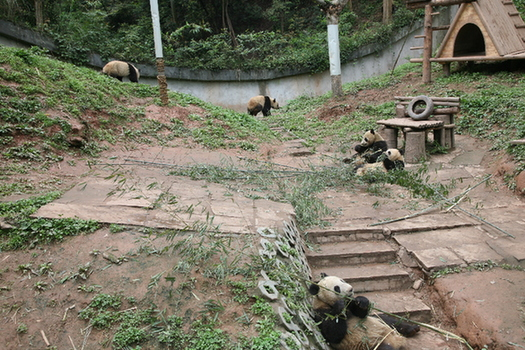 Five of six pandas that set off for Beijing today to take part in China's October National Day celebrations eat and play in a yard at the Bifengxia Panda Base in Ya'an, Sichuan Province. [China.org.cn]
Two of the pandas - Hua'ao and Jinyi - were evacuated to Bifengxia from the Wolong nature reserve on July 13, 2008 two months after the reserve was badly damaged by the Sichuan earthquake. The other four - Xiangge, Shuiling, Qingfeng and Wenyu - had remained at Wolong until just a few days ago.
"The six pandas were chosen carefully from those born in 2007," said Zhang Jinguo, deputy director of the Beijing Zoo. "They get on well with each other; they are all healthy, they adapt well to change, and last but not least, we took into consideration their looks."
"When we flew eight pandas to Beijing for the Olympics it was a great success. The public loves them and we have been planning this move for a long time."
"Fresh bamboo is delivered to Beijing Zoo from a plantation created in Henan Province when pandas were introduced there in 1955."
According to Zhang, Beijing zoo has been holding a series of activities to welcome the six pandas. "We held a seminar on panda protection a few days ago. In the next few days, we will be staging an exhibition about panda conservation."
In order to make sure the pandas settle in well, three of their favorite keepers from the base will travel with them to Beijing and stay with them for several months.
The pandas will be introduced to the Beijing public on May Day and are scheduled to remain in Beijing Zoo for one year.