FIT Publications
BABEL and Translatio are the two regular FIT publications, attracting a wide readership both inside and outside the organization.
An international journal on translation, BABEL is published 4 times a year. Authors can submit their paper in electronic format to Ren?Haeseryn, Director of publication:
babel@fit-ift.org.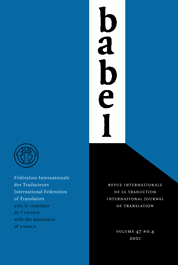 Translatio, the newsletter of FIT, is sent free of charge to all FIT associations members, committee chairs, special delegates and FIT partners. It is also available at conferences, seminars, round tables, ...
For more information, please click www.fit-ift.org/en/translatio-e.php.