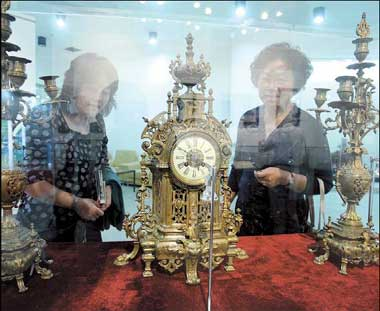 Visitors admire a 19th-century copper table clock and candle stick. [Shanghai Daily]
The coming World Expo 2010 is encouraging cultural and preservation projects across Shanghai. One of these pieces together one of Xujiahui's best-loved success stories - one that defied the war-torn bloodiness and poverty of the time.
The Tushanwan Museum to be opened in May next year celebrates the Tushanwan Orphanage established in 1864 by Catholic missionaries.
Sitting on a muddy bend in a long-gone river in modern-day Xuhui District, it not only educated Chinese orphans for a productive life, but also produced woodwork and paintings of extraordinary quality and was a leader in developing printing technology.
By the 20th century, the orphanage had gained such recognition that its work even won awards at international Expos in the United States.
The process of finding the key relics and artifacts to tell its story has been a challenge as Xujiahui has quickly modernized.
The decision to start the museum has resulted in a renovation of the only remaining orphanage building and an international search for relics spread among private collectors and citizens.
"We want to showcase the achievements of this important period of history which influenced a generation of technical masters crucial for constructing new China," says Song Haojie, deputy director of Xuhui District Cultural Bureau.
The Tushanwan Orphanage had an extraordinarily wide curriculum. There was a mixture of Chinese and foreign teachers and the orphans were taught woodcarving, painting, printing, blacksmithing and mechanical work among other subjects.
The original grounds included many workshops and printeries but of these only the main classroom building remains with the various printing houses and workshops incorporated into modern industries after 1949.
The renovation of the museum comes with a 30-million-yuan (US$4.4 million) overhaul of the building which is now also a modern orphanage. With the ground floor set aside for the new museum, the building gets back into touch with its roots.
Plans for the museum were announced in August last year following a forum on Tushanwan (called T'ou-Se-We in old Shanghai) history. Since then a wide-ranging search for relics has unearthed an impressive list of finds.
Top of the list is a 97-year-old wooden archway made for the Panama World Expo by the orphans in 1912. Named the "Chinese Archway," it was nearly 6 meters tall and had ornate and intricate carvings throughout, including 10 lions guarding its four pillars.
It went on to star in two further expos in Chicago in 1933 and New York in 1939. But it disappeared after being sold to an American businessman following the New York Expo.
Earlier this month it was brought back to its birthplace, touching ground in Shanghai. It came to light when its then-owner, a private collector in Sweden, found out about the Tushanwan Museum online. As an overseas Chinese, the collector, who does not seek to be named, wanted to help bring a piece of history back to China.
"He was very excited to do something for his home country," says Song who worked closely with the Swedish collector for nine months to realize the goal.
But even so the archway is not complete. The Swedish collector owned most of the structure and through his international connections he helped collect many other parts.
But certain features such as all the carved lions are gone, sold off by various collectors who possessed it throughout history. Song estimates the archway is two-thirds complete.
The Xuhui District Cultural Bureau is now consulting various experts to reconstruct the missing parts, making clear what is new.
"Though it's not complete, we feel this is the right time to restore it and show the public what we've found," says Song.
The archway will form the centerpiece of the exhibition with a separate 8-meter hall constructed to accommodate its height.
Other artifacts collected now number over 600 pieces, and include a stone printing press and a Catholic altar sourced from Macau.
The cultural bureau has budgeted 10 million yuan for these items (not including the archway whose price has not been disclosed).
"It's not easy to find these artifacts as, increasingly, people are collecting professionally. We have to beg them or pay them to give up the artifacts to us," says Ou Xiaochuan, head of cultural heritage at the Xuhui District Cultural Bureau.
Smaller, more intimate items they have collected include books used during teaching and graduation certificates of former students.
Many of these items have been donated by old people from the local community who also contributed their life stories with the artifacts.
Li Shenxing is a 75-year-old former technician who has built his long and successful life on the skills he learnt at the orphanage.
Despite his age, Li remembers a great deal about the orphanage, even the school song. He donated his primary and middle school graduation certificates to the museum.
Li's father died during China's War of Resistance Against Japan (1937-45) in 1944 when Li was only 10 years old. His elder brother was blind and his mother was a cleaning lady at the Tushanwan Orphanage. Due to poor family circumstances, young Li was taken into the school from 1946 to 1951.
"There was free food, free clothes and free education. Without the orphanage there would be no today for me," says Li who now lives in a small apartment in Minhang District.
Li was sent to study in the printery, learning many state-of-the-art techniques for the time. Even though his training lasted just five years, Li went on to work in printing for most of his life.
Other than printing, Li was also an enthusiastic student of English, an education that started with his foreign teachers in the orphanage. Through his own continued efforts, Li is now often invited to translate leaflets for various organizations.
One of his happiest memories is reading an English birthday speech for the director of the orphanage.
He remembers the foreign missionaries spoke good Chinese and also loved a wide range of arts and crafts. One French teacher made his own violin and played it for the students.
"The sound it made was so special that many people wanted to buy the violin but he refused to sell for any price," recalls Li.
The museum has become a community affair. Last year a painting competition was held for local residents to recollect their memories or impressions for Tushanwan. The paintings will be included in the museum exhibits.
Local collector Zhao Wenlong, now in his 50s, has donated an organ which cost him 30,000 yuan nine years ago. Zhao is a collector of Qing (1644-1911) and Ming (1368-1644) dynasties furniture and met a member of the cultural bureau during a collectors' forum. As they got talking, he realized he had items of interest for the museum.
"As a collector, it's my job to purchase antiques and keep them safe and if the country needs them, I'm happy to play my part," says Zhao.
Along with the instrument, Zhao also donated a writing table and the cultural bureau bought some other cabinets, stools and a dining table from him.
Tushanwan also has personal significance for Zhao.
His family has been Catholic since his grandparents, and he had heard stories of Catholic missionaries since childhood. During World War II, his grandmother even took shelter in a protected zone set up by the church in Xujiahui.
(Shanghai Daily August 3, 2009)