The dispute at the G20 summit between the U.S. and Europe over "economic stimulus" versus "deficit reduction" convincingly demonstrates the superiority of China's system of macro-economic regulation. China has faced no similar dilemma. It has simultaneously carried out the world's biggest economic stimulus package, generating almost 12 percent annual GDP growth in the first quarter of 2010, while running a budget deficit which is entirely sustainable – under 3 percent of GDP compared with deficits of more than 10 percent of GDP in the U.S. and U.K., and levels approaching this in the other major European economies. China has therefore not had to face the choice between continuing fiscal economic stimulus measures and placing the priority on budget consolidation.
Studying the lessons of China's policy success is therefore urgent, given that the world economy now faces, at best, slow recovery or, at worst, the risk of a double dip recession under the combined impact of the Eurozone sovereign debt crisis and the constant downwards revision of US growth. Last Friday saw US growth in the first quarter of 2010 revised to an annualized 2.7 percent compared to the 3.2 percent initially announced.
To see why China's economic performance has been so successful, it is necessary to look at what has actually occurred during the international "Great Recession" – as opposed to myths about it. The chart below shows the changes in components of GDP in the countries that form the Organization for Economic Cooperation and Development (OECD) – essentially the developed economies – between the start of the international recession in the first quarter of 2008 and the latest available data. During that period OECD GDP fell by $1.04 trillion dollars in constant price terms. However $0.99 trillion of that, equivalent to 96 percent, was accounted for by a decline in investment. In contrast the decline in personal consumption expenditure was only $0.25 trillion; government consumption rose by $0.23 trillion and the balance of trade position of the OECD economies improved by $0.23 trillion. In short the Great Recession is dominated by a massive investment decline.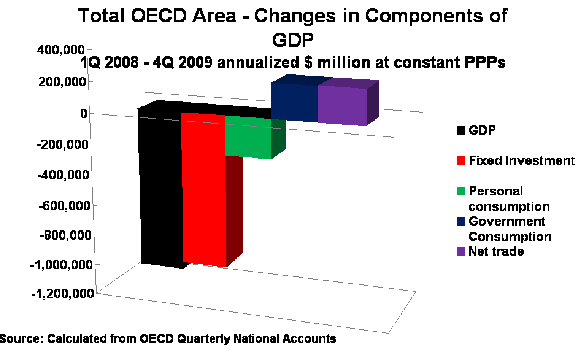 However in China no such investment decline has taken place. On the contrary the latest figures show China's urban fixed investment, which accounts for the overwhelming majority of the country's investment, is up more than 25 percent year on year. As China has suffered no major decline in investment, its GDP has therefore continued to expand rapidly.