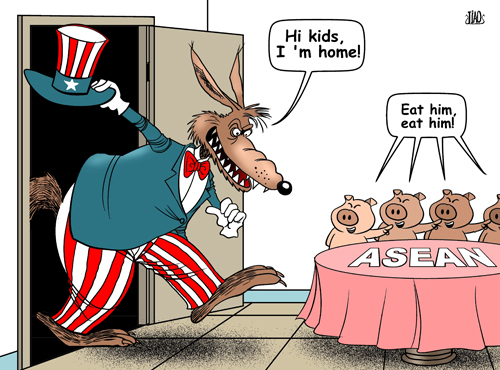 Wolf at the door  [By Jiao Haiyang/China.org.cn]
Washington fears the strategic situation in the Asia-Pacific is subtly changing in China's favor, with the United States losing soft power and China's hard power rising rapidly.
Early this year, Hillary Clinton openly attacked China's policies, when she declared the United States is deeply concerned about the peaceful resolution of the "South China Sea dispute" and proposed a multilateral process to resolve territorial issues.
In mid-August, the US aircraft carrier George Washington sailed into the South China Sea and US forces held non-combat drills with Vietnam. On August 17, the U.S. and Vietnam held high-level defense consultations.
The underlying motive of these moves is to expand the US military presence to prevent China from breaking through the first island chain, and to monitor China's actions in its own territorial waters.
The readjustment of US East Asia strategy presents a challenge to China's regional interests, its role in the process of East Asian integration, and its efforts to resolve regional disputes left over by history through bilateral and multilateral channels.
If US intervention in East Asia is institutionalized in alliances, things will get complicated. An old-fashioned cold-war mentality characterized by power struggles and zero-sum games will once again dominate the US relations with China.
As military relations between the United States and Japan, South Korea, on the one hand, and ASEAN countries, on the other, are consolidated, we could see fierce competition for power and influence in Southeast Asia between the U.S. and China.
Some countries may take advantage of US support to encroach on China's sovereign rights. In that case, as relations with neighbors become increasingly complicated, China may face security problems.
Mid-level powers in East Asia may push for closer strategic cooperation with the United States. They may even involve China in crises. If crises multiply and intertwine, China may become pre-occupied and diverted from its national goals.
The main channel for East Asia Cooperation is currently the "10+3" mechanism, but it may become marginalized as the United States increases its involvement, and China's influence may decline correspondingly. The United States could then fill the agenda of East Asia summits with issues like the South China Sea, China's military transparency, the Korean Nuclear Crisis, democratization of Myanmar, the RMB exchange rate, carbon emissions, and so on.